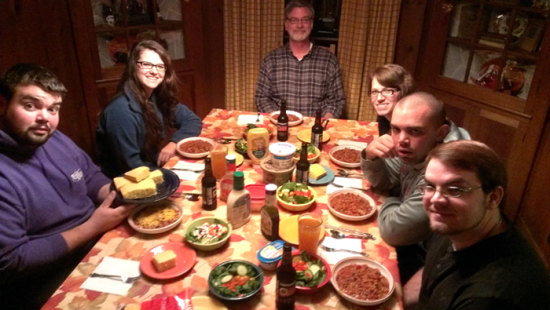 I snapped this photo real quick last night just as we were about to eat dinner.
We had a fun "Welcome Fall" kind of family dinner last night. Chili with ground turkey and black beans, cornbread and salad.
Nothing special. Everyday food.
We celebrated Ryan (the one on the right in the middle) getting a most impressive award from the USMC.
We ate fresh pumpkin cookies with just a drizzle of icing for dessert, drank Barktoberfest Beer and apple cider (for the two under 21).
We played "Catch Phrase" and laughed so hard a few times the game came to a complete standstill while we tried to recover.
I think everyone felt happy, warm and full when they went to bed.
I'm pretty sure that I fell asleep smiling. These Sundays mean so much to me.
Not only because we are a blended family – two families that have been though some tough times trying to become one family. We've been through heartbreak that I thought would never mend and we've all grown up together.
Not necessarily because I'm at a place in my midlife where I can look at my adult children and take pride in who they are, what they stand for, and how they move in the world. Or because they are all doing good things, reaching for dreams and being recognized by their superiors and peers alike for all they do.
Mostly because this is what I've wanted MY WHOLE LIFE.
Growing up in a family long on dysfunction and short on love. A family full of abuse and seriously lacking in any kind of affection, I've longed to be truly loved. To FEEL loved.
I got married young thinking that marriage would provide love that I longed for only to realize too late that he had come from a family nearly dysfunctional as my own and couldn't provide what I, and later my sons, needed.
All of my life I've simply wanted to be truly loved for who I am. Not loved if I change to meet someone's vision of who they wanted me to be. Not loved if I stay involved in a certain church. Not loved if I turn a blind eye to adultery and abuse. Not loved if I just keep my mouth shut and go along with people I fundamentally disagree with. Not loved if I will just fade into the background and do what I'm told.
Loved.
Even when I'm too loud after a couple of beers. When I tell bawdy jokes. When I have a phobia of organized religion. When I'm demanding. When I'm stubborn and wrong all at the same time. When I'm sick. When I'm not very lovable.
Loved.
The kind that shows up in the middle of the night when you are sick or hurt. The kind that takes arguments and disagreements in stride and comes back even stronger. The kind that will stand in court, at the cemetery or in the hospital by your side when things fall apart.
Loved.
Arms outstretched, hugs always available, kisses on the cheek. Little notes, texts, gifts of appreciation.
Loved.
It's all I ever wanted and it fills my heart to overflowing to finally be in a place where I am truly loved.
Giving love in return.
Being well and truly loved makes a world of difference.