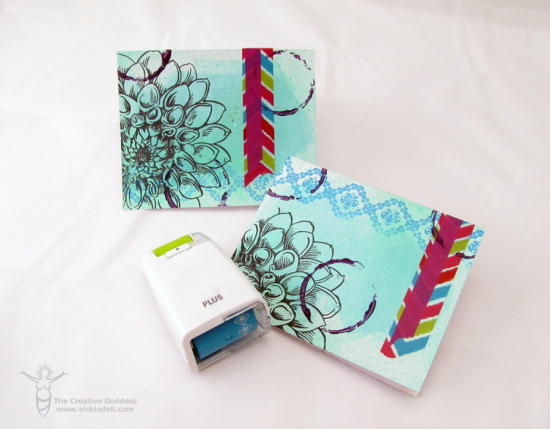 This is a fun all-occasion card I created for FaveCrafts back in 2013 featuring Plus America Decoration Roller Stamps that I thought I would share here. Don't worry if you don't have the EXACT same materials I used. Experiment, have fun and use up some of the surplus craft supplies that I know you've got lying around.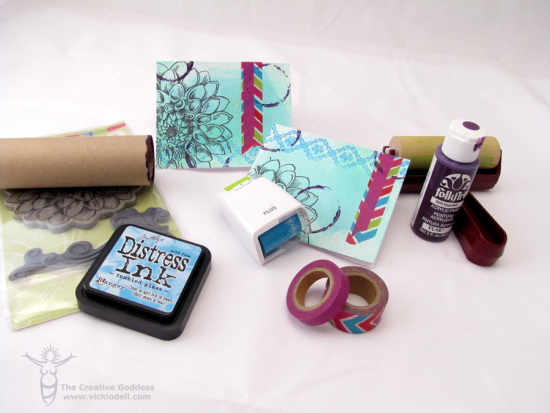 Supplies:
Brayer
Tim Holtz Distress Ink – Tumbled Glass
Jumbo Dahlia Stamp from Stampendous
Ranger Archival Ink – Jet Black
Folk Art Acrylic Paint – Eggplant
Washi Tape – Recollections Brand
Cardboard Tube
Scrap paper
Card Blank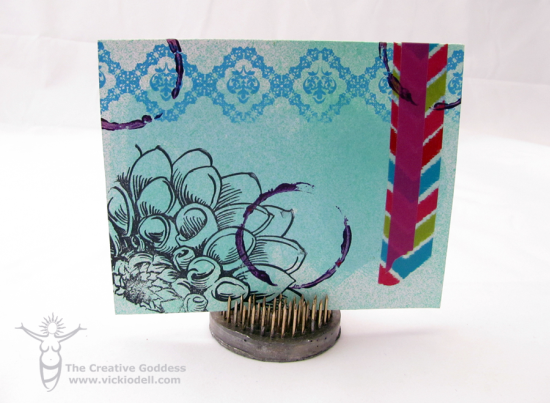 Insert scrap paper in between the layers of the card.
Ink the brayer with Tumbled Glass ink and roll it in the center of the card.
Spritz with Glimmer Mist and let dry.
Ink Dahlia Stamp with Archival Ink and stamp.
Run the Decoration Roller across the top of the card
Tear off strips of coordinating washi tape and attach to the card
Dip the carboard tube into a puddle of acrylic paint and impress the image in random areas. Let dry.
Sometimes it's just fun to play and experiment and see what kind of a background you come up with. If you decide you don't love it just set it aside for later. You never know when inspiration will strike and you'll find the perfect use for a bit of that paper.