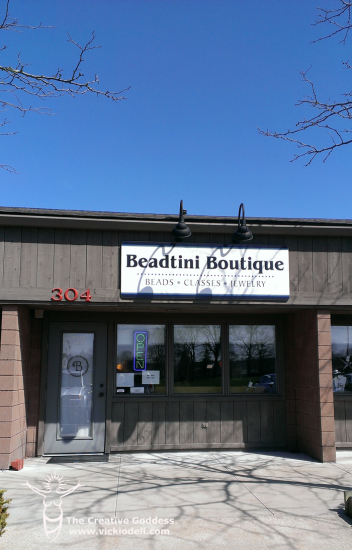 I love finding new local bead shops.
Actually, my middle son Ryan found this one – Beadtini Boutique.  (Yeah, raised that boy right!) He was waiting for his barber to come back from lunch and saw the sign for this shop, snapped a photo and then texted it to me. The tricky part was finding out exactly where it was located because that boy is directionally challenged.
Anyway, I had been out having lunch with a friend and decided that I NEEDED a new bead shop to visit. I put the name of the shop into my GPS and was on my way. Directionally challenged children can't hold me back.
It was a nice bead shop and I wish I'd taken interior photos. Guess I'll have to go back!
I thought I would share what I bought.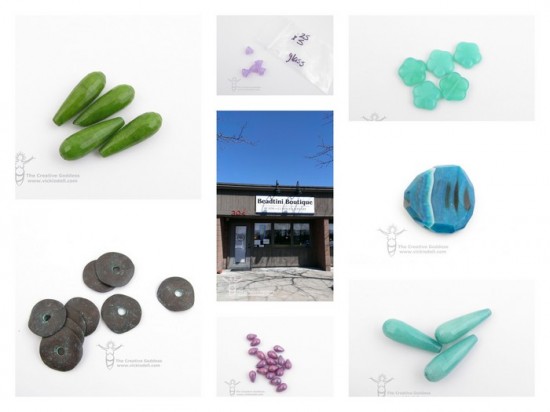 I didn't realize how color coordinated my bead choices were until I took these photos.
Clockwise:
Green Candy Jade
Lavender glass flowers
Turquoise glass flowers
Dyed Agate slice
Turquoise Candy Jade
Purple Fire Polished
Greek Spacer Beads
You'll notice that the photo in the top right corner shows the bag with the price and name of the bead on it. I do that often when I'm buying beads so that I can more easily remember what the beads are made of and how to price a finished piece later on.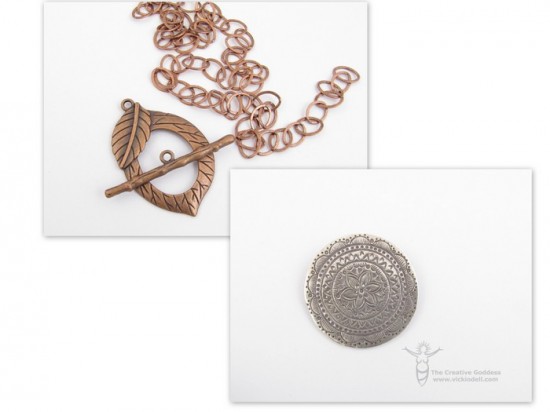 I also picked up some copper chain and this lovely leaf and twig toggle clasp.
Can I tell you how much I love the sterling silver mandala pendant? SOOOO Much.
I had a little conversation with the shop owner about bead shops and big box stores that I enjoyed. You see, while I do quite a bit of design work for the larger manufacturers who sell their goods in the big box stores I'm also a big supporter of local bead shops.
I look at it like this… big box stores are great for trying out new kinds kinds of bead techniques where you might not want to use high end beads. They are great for beads in mock up projects – kind of like muslin is used when a fashion designer is trying to come up with a new design. And big box stores are great for filler beads – when a project calls for lots of beads that aren't the center of attention in a piece.
Local bead shops though are where I go to get higher quality beads, unusual or handmade beads. These are the beads I use in my nicer pieces and after I worked all of the kinks out of a new design.
So now you know.
How do you shop for beads? Do you prefer the big box store or the local bead shops?