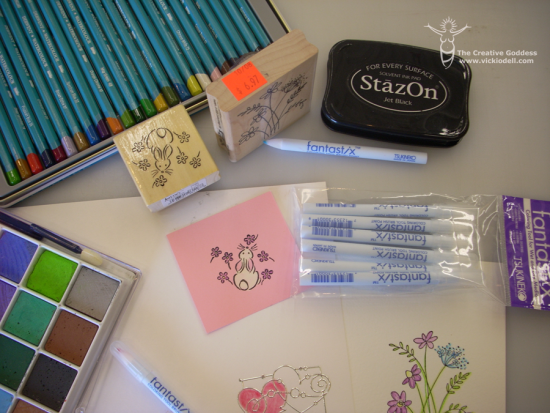 I imagine that coloring with bleach is probably not a new idea but I loved this sweet little rabbit so much I just had to share.
This post contains some affiliate links for your convenience. Click here to read my full disclosure policy.  
It's so easy that there are only 3 steps to the process.
1. Stamp an image on a colored piece of paper. I recommend StazOn ink – the stamp I used I can't find online for you but here are two others I like very much  – Baby Bunny and Tiny Bunny Rabbit Hopping Away
2. Color in the image with a Fantastix dipped in a bit of bleach – it may be difficult to see if you've finished coloring until it sets a minute. If you missed a spot you can go back and color it some more.
3. Wait
It only takes a couple of minutes for the bleaching of the paper to be seen.  I've done this too where I put bleach on a pad of paper toweling and used it as a stamp pad.  I stamped snowflakes on navy blue paper for a Christmas card background.  It's definately a "Oooo" getter.
Have you used bleach in paper crafts before? What did you make and how?