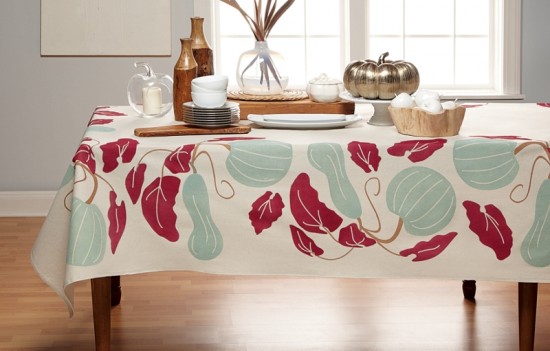 I've been keeping a little secret from you. You see, for the last year I've been creating some really amazing DIY home decor projects for the folks at Krylon. I kept it all hush, hush but now that they've been posting the projects to their website with my name on them I feel it's safe to spill the beans.
This Harvest Table cloth is one of the last ones I did for the Krylon Color of the Month this year. It's HUGE, it was a major challenge and it's one of my favorite projects ever. Warren and I worked together on this one. From the artwork to the final product. It was a lot of stress and a lot of fun all at the same time.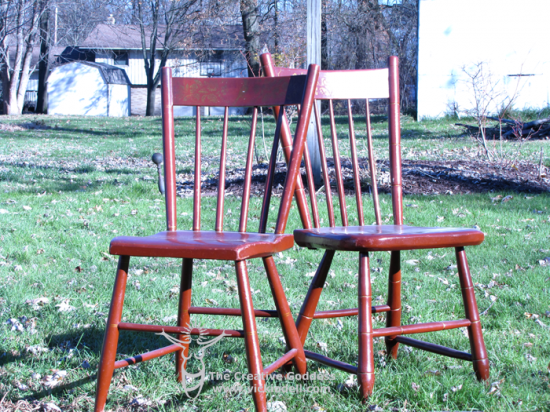 Another favorite project was five beat up, second hand chairs. Here they are in my back yard last fall.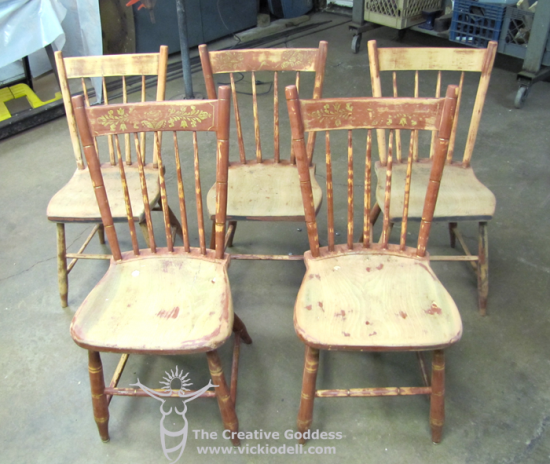 And this is what they looked like after sanding. Then they were filled so that all of the deep dents and scratches disappeared. After that it was on to coats and coats of primer and paint with alternating bouts of sanding.
We ended up adding gas heat, ventilation and a spray booth to our garage/workshop so we could keep working on projects even after the weather turned cold and wet.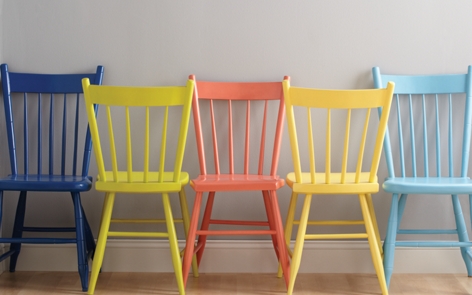 And this is the end product.
Is it wrong to love my own projects so much?
The only thing that makes me kind of sad is that they aren't in my house right now but I'm seriously considering doing it all over again so that I can have some. It would be TOTALLY worth it!
I have to say that I've learned SO MUCH about using Krylon products. What they can be used on and what surfaces need a little more TLC before hand. I haven't found ANYTHING I can't transform yet! I've learned a lot about Adobe Illustrator and how to design and cut repeating stencil patterns too.
I hope you'll go over and check out the other Color of the Month projects and also the Projects section of Krylon's website. There is so much inspiration for your own diy home decor projects.
There are lots of big, big projects like this that I'm working on these days that I can't tell you about until after they are long, long done. That's why it's been quieter than usual around here. Lots and lots going on behind the scenes.
I feel so unbelievably lucky to get to do this work for a living. I'm so very thankful for all of the work that has passed through my studio the past two or three months.
I know that this kind of work has an ebb and flow and sometime toward the middle of January I'll be sitting here twiddling my thumbs wondering where everyone has gone. I will look back at this past few months and be thankful for the challenges, the work, and yes, even the lack of sleep.
Have you worked on any DIY home decor projects lately? What did you make?
Disclosure: This is NOT a sponsored post. I am not being compensated for this post but simply sharing recent work.