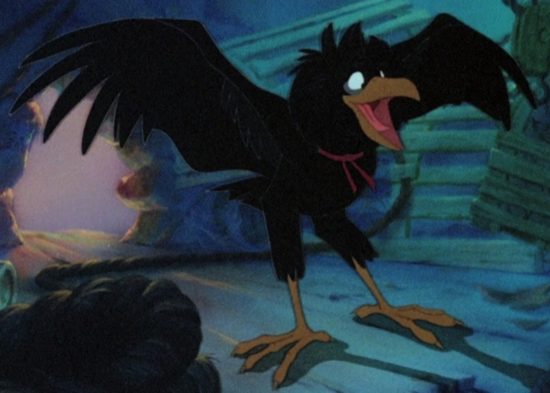 For this blog hop featuring Amazing Casting Products we were asked to look around and be inspired by what we see – to go on a scavenger hunt for inspiration.
This time of year in my yard it's all about the crows. I've read that in the fall and winter that they like to gather together and roost in big groups because they feel more safe from predators. My yard must be super safe as they seem to come here by the dozens. Seeing them all in the yard recently reminded me of a piece I made for Halloween a few years ago. You can see it here – Halloween Themed Mixed Media Box Stack.
And that reminded me of a movie my boys loved when they were little. The Secret of Nimh. I always loved the crow, Jeremy, played by Dom DeLuise. He was a kook and had a love of all things shiny. He seemed to always be on the search for something sparkly.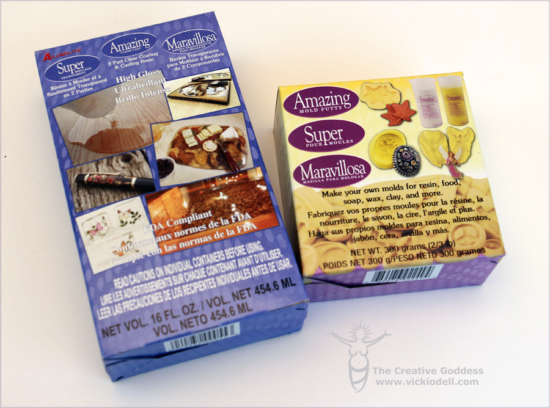 I dug around and found that crow that sat on top of my past Halloween project and cast a mold of one side of his head. Once the molding putty cured I had to go pack and create a bottom or end for the mold so the resin wouldn't just pour out.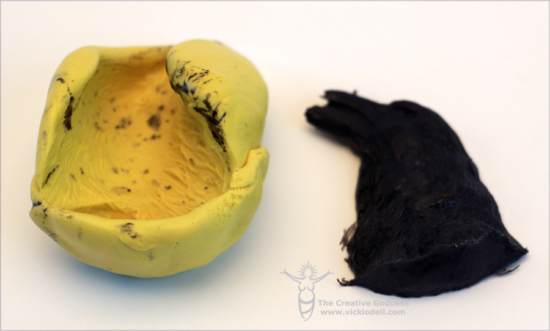 To do that I simply mixed two equal parts and put them onto the end of the mold I had already created.
When I mixed the resin I added a bit of black oil paint to get the black coloring for my crow.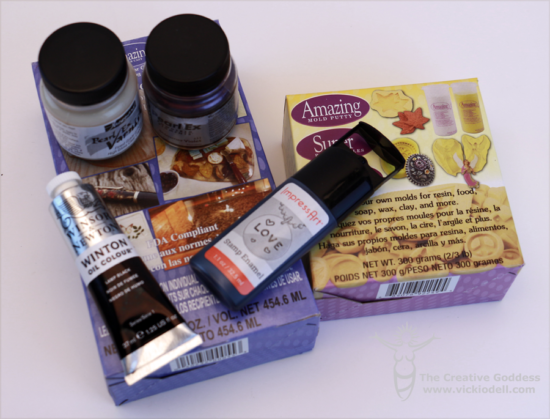 The molded crow had a flat black finish and it was hard to see the detail of his feathers. I brushed on a bit of Pearl-Ex in Shimmer Violet and then sealed it with Pearl-Ex Varnish. Between the shimmer of the Pearl-Ex and the shine of the varnish it made the feathers really stand out.
I used a teeny tiny dot of Impress Art Stamp Enamel to give his eye a little dimension and a little shine.
Finally, I dug out some chain from Beadalon, a Swarovski crystal and a bezel from Nunn Design to turn my crow into a fun fall necklace.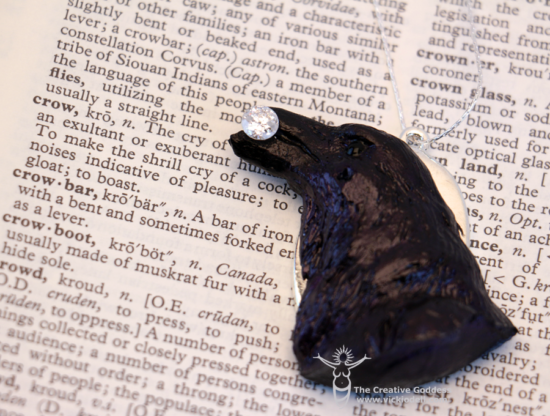 I actually put the crow on the back of the bezel and I like that it looks like a moon behind him.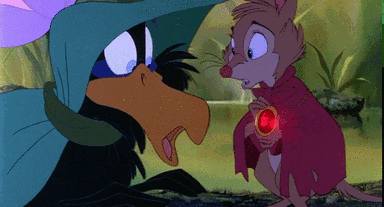 Now, I know that crows don't really collect shiny objects (except ones raised by hand – you can read more about crows here.) but I like to imagine that this crow has just found the ULTIMATE sparkly and is as enamored with it as Jeremy is with Mrs Brisby's gem.
We all need something a little sparkly now and then!
And now because this is a blog hop there is also a GIVEAWAY for you.
The prize is an ARTIST's DREAM!!! Winner will receive box of Amazing Clear Cast Resin and a 3lb. kit of Amazing Mold Putty.
Find out more about this giveaway on the Designers Craft Connection Blog.