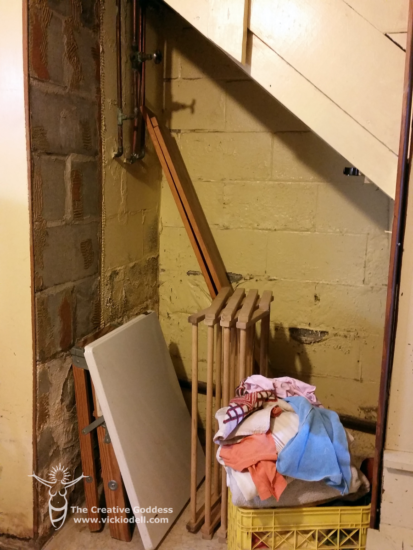 With all of the kids gone we've been doing some serious downsizing. Downsizing the amount of STUFF we have that is. So. Much. Stuff. My husband always said that we had 10 pounds of potatoes in a 5 pound bag as we were raising 4 kids in what is technically a 2 bedroom house. But then we also had the stuff.
It's felt really good to get rid of things that are no longer of use to us. It's also given us space to spread out a bit. I now have my own office and studio space and he has an office too.
I decided this past summer that this ugly space under the stairs in the basement needed to become a kind of root cellar. I've done tons of gardening this summer and need space to store some of my produce, preserved food and odds and ends that have been crammed into kitchen cabinets.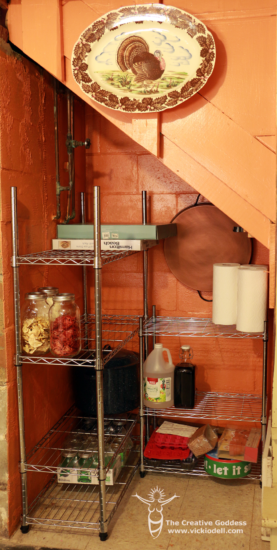 I had originally purchased what was supposed to be a "spice" color to paint the kitchen. Boy, am I glad I started here first. In real life it's a LOUD pumpkin orange. I would have hated it in the kitchen.
But down here it doesn't look too bad. I mean, my dreary old basement could use a shot of color and I already had the paint on hand so why not?
I bought three steel shelves – a tall and two shorter ones but only two shelves would fit. Darn!
I did find an old shelf we had hanging around and laid it on its back to create a crate for taller glass bottles and such. It's tucked under the stairs on the right.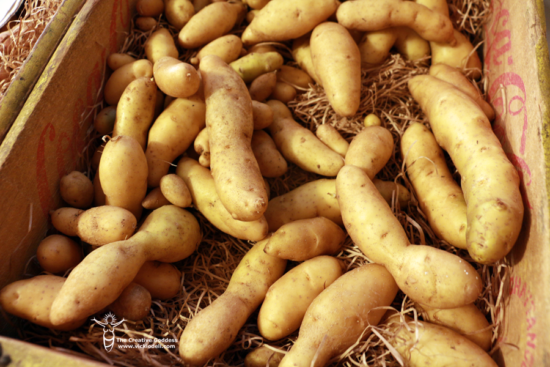 I have two old wooden soda crates that I lined with shredded paper and then stored the potatoes I grew in. I also covered them with more shredded paper to protect them from the light.
In a few baskets I have acorn squash, pumpkin, spaghetti and butternut squash along with some sweet potatoes and onions.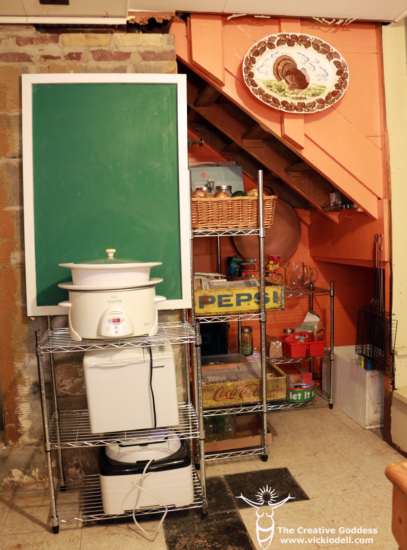 To the left of the root cellar area is what used to be a shower. Over the years the tile and even the backing wall have started to crumble and leak making it basically unusable. My plan is to knock out the wall and expand this root cellar eventually.
I can tell that the shower was added after the house was build because I can see what appears to be the side of a produce crate in one little cranny at the top. I find that sort of stuff interesting.
Anyway, the shelf that wouldn't fit INSIDE the root cellar ended up just outside the door, for now, to hold my slow cooker, bread machine and a food dehydrator.
I plan to write a list of family birthdays on the chalkboard so I can see it often as I go up the stairs.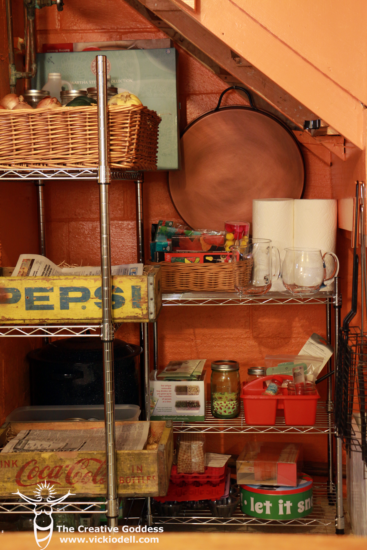 The shorter shelf  holds baking and entertaining items and the tall one on the left has produce and some canning supplies. It's not huge but it is nice to get that stuff out of the kitchen. I'm hoping that if it's all out where I can see what I have on hand that I'll be better about using things up. You know, before I go buy more pretty cupcake liners or canning jars only to come home and find I have tons on hand.