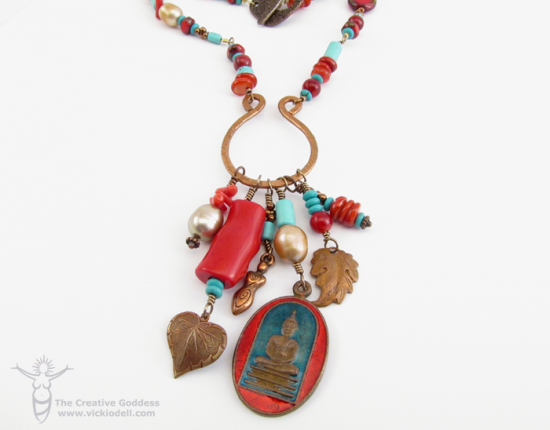 I don't know about you but I've about had all I can take of the cold dreary days of winter here in NE Ohio. I need some color! Bold vibrant color.
I put this necklace together using supplies I had on hand. Sometimes I get like that. I feel the need to make something NOW and I start going though boxes, bins and jars pulling together a little of this and that while making a HUGE mess in the studio.
In this case I had the little Buddha charm in my hand and I dug around for all of the copper, red coral and turquoise I could get my hands on to created this Red Coral and Turquoise Necklace.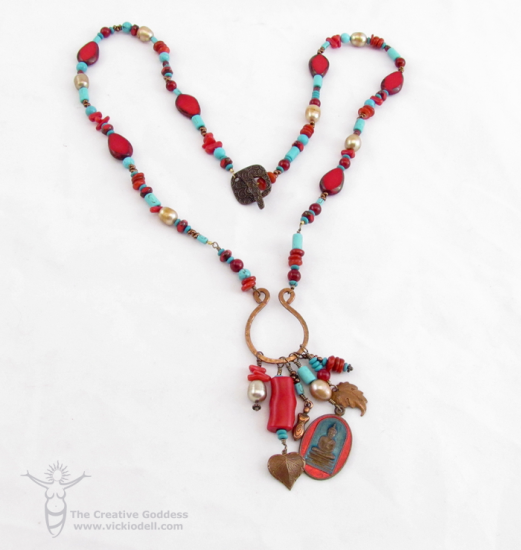 I love making these copper charm holders. I made one for the Copper and Roman Glass Necklace as well at the Beach Treasures Necklace. They are super easy and can be made in several different ways.
I'm working on a video so that I can show you how to make them too.
After making the charm holder I attached all of the various elements to it with copper wire wrapped loops.
The first short beaded sections at the top of each side are created the same way and then the rest is simple stringing on Beadalon wire.
Easy Peasy.
Itch scratched.
Do you plan out your projects in advance or do you just wing it?