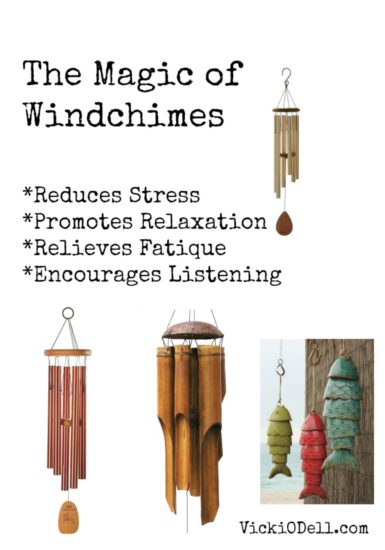 I'm kind of a wind chime junkie. I love to hear them tinkle in a slight breeze or warn me of a coming storm when the winds become raucous and they jangle like their lives depend on it.
Also, I have lots of plants and several critters who like to eat my plants. A well placed wind chime can help to keep the critters away. I thing I need a HUGE wind chime to scare away the deer though!
Wind chime facts –
Archeologists unearthed evidence of ancient wind chimes made of shells and bone at dig sites in Southeast Asia. Various forms of wind chimes were also discovered in ancient Greece and Egypt.
Wind chimes were often hung around Asian temples and thought to attract peaceful spirits while protecting against evil forces.
Early on, Buddhists adopted wind chimes and wind-bells into various rituals and the chimes were hung in large numbers on temples, shrines, pagodas and caves.
Wind chimes were, and still are, used to scare away evil spirits and hung in doorways and windows to dissuade bad luck from entering a home.
Farmers in Bali place bamboo wind chimes throughout rice fields to scare pests and bring the farmer good fortune and healthy crops.
The sound of wind chimes blowing in the wind has the ability to reduce stress and promote relaxation and calmness. Their sounds are considered to have a healing effect on body and mind. They relieve fatigue and encourage listening, creativity and upbeat feelings.
The tones that reverberate through the wind chimes are believed to unblock emotional stress and bring a feeling of inner peace and conscious awareness. Listening to wind chimes also creates a sense of balance in one's life.
Wind chimes were used to detect early, minor changes in wind speeds that signaled oncoming storms. Wind chimes are still used on ships and in farmer's fields to determine wind direction and current weather conditions.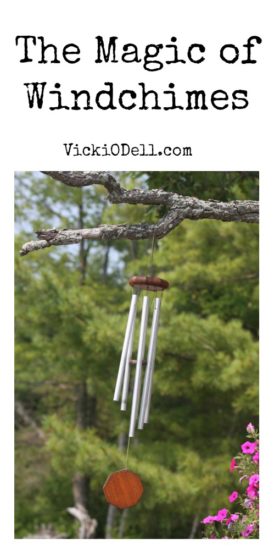 I have wind chimes very similar to the ones below and I love them!
This post contains some affiliate links for your convenience. If you purchase an item after clicking a link I may make a teeny tiny commission at no extra cost to you.  Click here to read my full disclosure policy.
38″ Hand Tuned Wind Chimes for Patio and Garden
Woodstock Tibetan Prayer Chime
Colored Porcelain Koi Fish Wind Chime
My next door neighbors have bamboo wind chimes and while they sound completely different I still like them. 
Large Plain Antique Wind Chime
One of my favorite things to do after spending a few hours in the garden is to grab a tall glass of iced tea and sit and listen to my wind chimes. I find it so very relaxing.
Do you have wind chimes?