I'm late, I'm late, I'm late. It's the story of my life the past few months.
My business has gotten to a place where I'm busy and working on deadlines all of the time now. I'm so grateful for all of the opportunities – I can't even tell you how superduper thankful I am. I have had to do some adjusting in other areas of life to make time for work that I love and while it hasn't been an easy adjustment, it's totally worth it.
One adjustment is that I'm finding is that I'm often late for things where I was kind of obsessive about being on time previously. Appointments, lunches, dinner…every thing but my deadlines. I refuse to be late for those. Which means that I'm often late for other things.
Anyway, for family dinner this past Sunday we had our Valentine exchange. We do the exchange AFTER Valentine's for a number of reasons, Warren's birthday is the 13th and we celebrated it on the previous Sunday and the kids like that they can pick up Valentine's AFTER the fact so they get them on sale. So on that  count I was late because we decided to be late.
Then on Sunday evening, just before everyone was due to arrive, I realized I didn't have MY Valentine's prepared and I pulled this together with a little help from my oldest.
So even though it's a little late for this year I wanted to share it anyway.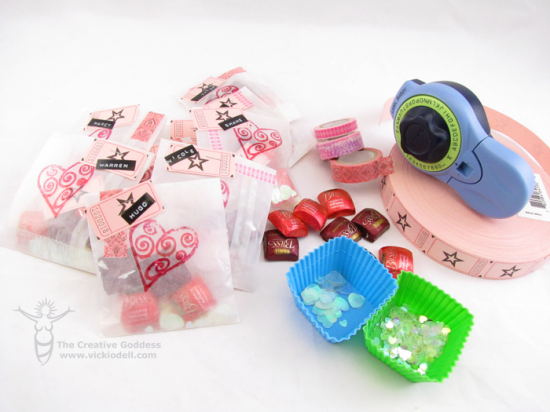 Here are the supplies I pulled together:
Iridescent heart shaped confetti in two sizes
Chocolates
Pink "tickets"
Washi tapes with pink
Rubber Stamp
Staz-On ink – Blazing Red
Embossing label maker
Stapler
Glassine Bags
The how to:
Stamp the heart image onto the bags.
Add a little confetti to each bag along with several chocolates.
Fold the bag over and embellish with washi tape.
Staple the ticket to the bag (stapling the bag closed) and add the name label to the ticket.
It took me about 20 minutes to pull everything together and make the bags.
Which was good because I was also late starting dinner!