It's been crazypantsbusy here at The Creative Goddess studios this week. But between all of the sanding, gluing, painting, and other work I've had a few minutes here and there to watch paint dry or on the phone with a client.  Not a lot of quiet time but a little.
And being the kind of person I am – the kind who has to keep her hands and brain going – I've been playing around with making some witches wands for Halloween.
I'm not finished with them but I thought I'd show you where I am now and how I got started.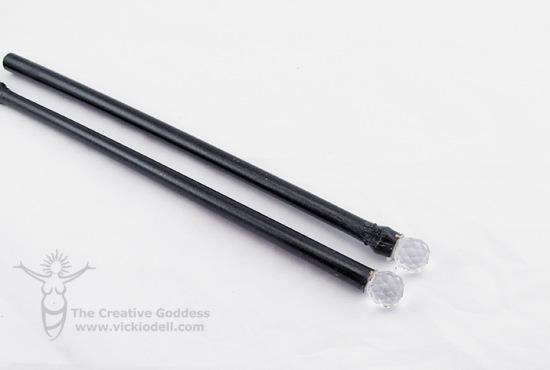 I took several bamboo stakes out of the garden shed and cut them to size with a hack saw.
I gave them a quick sanding and then a coat of Krylon Indoor/Outdoor Primer followed by a coat of  Rust Protector Black Metallic that I had on hand.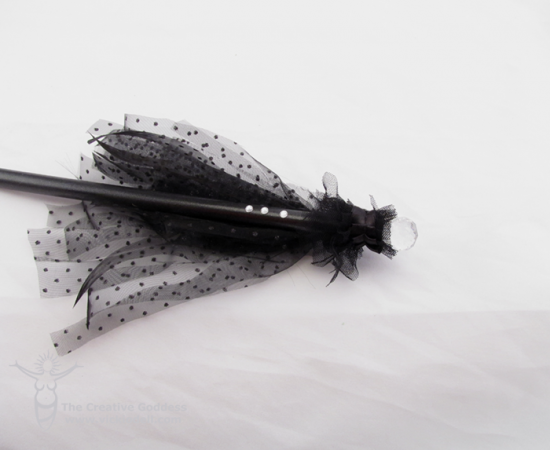 I pulled several size/shape of crystals from my Connie Crystal stash and used Krazy Glue to attach the crystals to the top of the bamboo.
Once the glue dried it was time to decorate.
I used lots of black tulle and trim on the wand above along with a few flat back adhesive crystals.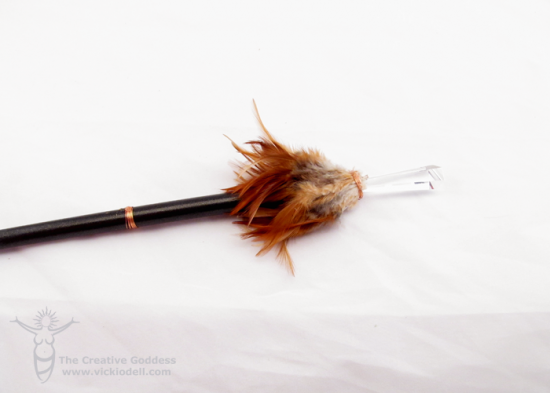 I decided to go a little copper with this one and used copper wire and feathers.
I'm not sure either of them are quite finished and I have two more to play with. I think I want to make a couple that are cute and whimsical but I'll have to get some fun ribbons and such first.
I haven't been feeling much of the Halloween spirit this year but these have me moving in that direction.  I'll let you know when I'm finished with them.
What have you created for Halloween this year?