VICKIODELL.com is a daily creative lifestyle blog where I share craft and home decor projects as well as recipes, inspiration and my own brand of Creative Goddess wisdom.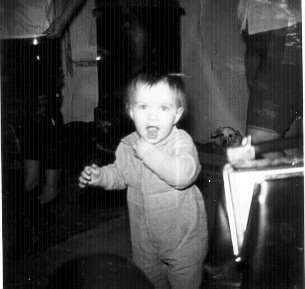 This is me, Vicki O'Dell a.k.a. The Creative Goddess, as a toddler.
I was born creative, passionate, imaginative and just a touch too talkative.
Just ask any of my teachers – I was always the first person each school year to get scolded for talking. Which probably has a lot to do with why I blog.
I'll talk your eyeballs off if you let me!
Now I'm in my mid forties facing midlife and an increasingly empty nest.
At first it made me kind of sad – getting older and having my children grow up and leave home – but I've come to find a sense of peace and I'm learning to enjoy this new stage in life.
I'm happy to not have to drive to football, wrestling, band, soccer, guitar, or piano. I'm thrilled to have time to enjoy my young adult children without always being "on mom alert".
I'm realizing that as the kids grow up and need less of my time it means more time for the things I LOVE TO DO – the things I put off all those years tending to the needs of my family.
Mid-life is becoming a time to
Delight in a Creative Life!™
Questions:  creativegoddess (at) vickiodell (dot)
I also write at; Craft Test Dummies, Jewelry Making at about.com and Creative Income Blog as well as various other places around the web.