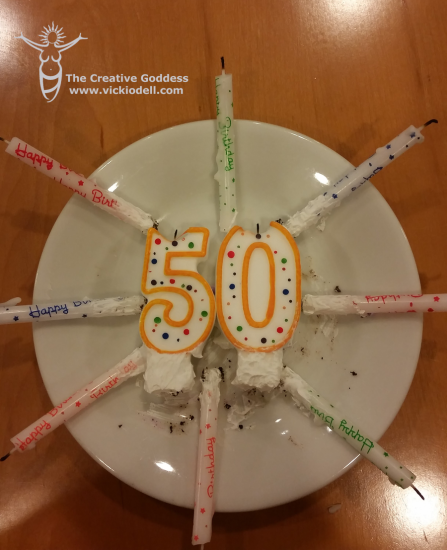 I wrote out a list of goals for my 50th birthday – things I want to do before I hit 51 – and I put it away in a drawer. The thing is I wrote it in early January before I got the great news. You see, ever since I finished breast cancer treatment I could never get my doctor's to say I was cancer free. It's all I wanted to hear, but they kept finding things to be "highly concerned" about. One thing after another. More tests than anyone should probably have and always, always, they came back and my oncologist would call in a near panic. Ugh! I just felt like I was waiting for SOMETHING AWFUL to happen. And that's not usually my style.
On January 1st we had to switch our insurance company and that meant I had to find all new doctors. I was kind of bummed about having to explain all of my surgeries, treatments, tests, results and medications to a new team of doctors until I realized it might be a blessing in disguise. And it was!
Turns out my new oncologist is happy to say that I am CANCER FREE. Yup. I actually teared up in his office. He had lots of encouraging things to say that left me pretty angry at my previous doctor. But in the end I have to have a few more tests done in June, including genetic testing that should have already been done since I was diagnosed before 50, but then I won't have to see another one of my "team" for a whole year. And that's the part that I'm concentrating on. Whohoo!
One of the biggest things on my list was to get down to Disney World to see my son and spend a few days in the parks. I rode rides I never would have ridden on before and it was the best week. Truly. Warren and I had a wonderful time.
From my list, here are the things I've accomplished so far –
Go to Disney World in the spring
Make a Tiramisu cake
Hear the words CANCER FREE
Go to CHA in Anaheim
Buy more indoor plants
And the ones I'm currently working on –
Read 6 self help or uplifting books – 1 down (I read it twice but won't count it as two books)
Keep up with Word of the Month – Uhhh, I think I forgot April. Have to get on that
Build a miniature house – working on this one
Plant a fairy garden – manage the other two I have started
Get back to blogging regularly
Make enough money writing to live off – getting closer
Get better at photography – got a new camera for Christmas
Lose 50 pounds – man, I'm way behind on that one!
Regular habit of meditating each day
Write in Gratitude Journal – minimum of 4 times a week

And the one I'm giving up on is raising quail. Yup, I have had it in my head for a while now that I would like to raise quail for eggs and maybe meat but I'm thinking that may be more than I can handle with all of the other things I do.
Don't look at me like that. I'm not crazy. Really.
I need to be a little farther along on this list but hey, I'm making progress. I'm good with that. I'll update you around the middle of June and again right before the 51st birthday.
Do you have a bucket list? Is a life long one or more of a short term list?