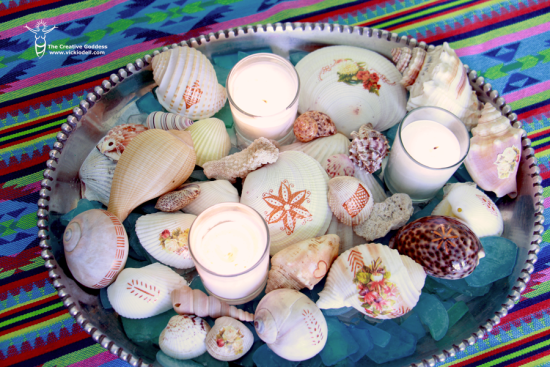 I had this totally random thought a few weeks ago. "I wonder what temporary tattoos would look like on seashells?"  But then I thought, not just tattoos but maybe some kind of flower too.
I looked and looked for weeks for a napkin or tissue paper that had the right kind of flower thinking that tissue paper or napkin would be light enough to mold to all of the crevices and curves that a seashell has. Not only did the paper have to be thin but the scale needed to be right. Not too big, not too small. I had all but given up when I remembered that I have a few pieces of decoupage paper in my supplies.
This post contains some affiliate links for your convenience. Click here to read my full disclosure policy.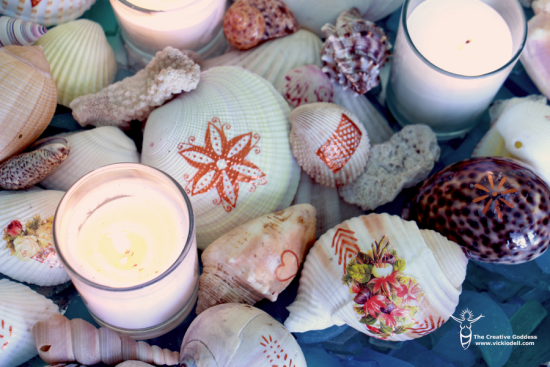 Supplies:
Decoupage paper – this decoupage paper might work
Temporary Tattoos – I found the ones I used on clearance at a craft store but these look nice – metallic tattoos
Paint brush for mod podge
Water and soft cloth
Sea Shells – from vacation or you can buy some here
Sharp scissors
Vintage or vintage looking tray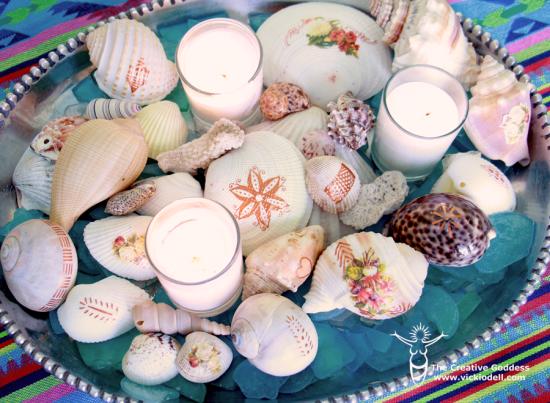 Directions
Make sure your seashells are clean and free of grit or sand.
Cut out images to decoupage – cutting close to the image
Put on a layer of Mod Podge and then place the image on top. Carefully smooth it down with your fingers.
After the first bit of Mod Podge is dry add a second layer on top to coat the image
Following package instructions place the temporary tattoo on the shell. Be sure to burnish well and only lift up one tiny corner to be sure the tattoo "took"
Arrange the sea glass on the tray and place the votive candles.
Arrange the tattoo and decoupage seashells along with some that are undecorated around the candles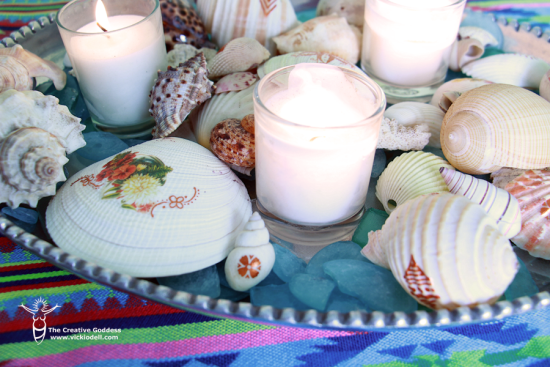 I love the mix of beach and garden with the graphics of the temporary tattoos. I think that tattoo and decoupage seashells are among my new favorite things!
What do you think? Love 'em or leave 'em?