I'm getting clay pot crazy here!
What a fun craft to make with the kids this spring or summer! Use it as a weight to hold the napkins down during back yard cook-outs or place over a broken sprinkler head to let the repair person know which one is causing trouble.
Supplies:
Clay Pot Sealer (Optional)
2 1/2″ clay pot
5mm Pom Poms Dark Yellow
10mm Eyes
12″x3mm Chenille Stems Black
2″ Wood Ball Knob
Acrylic Paint: Black, Sun Yellow
Aluminum Wire Form or window screen from a home project
Foam Brushes
Fine line brush
Glue of your choice (I used a hot glue gun but you might use Tacky Glue with young children)
Directions:
Base coat the whole clay pot with Sun Yellow; let dry. Paint 2″ wood knob, rim of pot and stripes black; let dry.
Glue wooden knob to pot base.
Shape and cut chenille stem (see photo) and glue pom poms to ends of antenna. Glue antenna to bee's head.
Glue eyes to bee's head. Cut wings from aluminum Wire Form or Screen, fold in half to crease and glue to back of bee.  With a fine line brush paint on facial features.
Do you have any other ideas for how to use this cutie?  Leave a comment and let me know!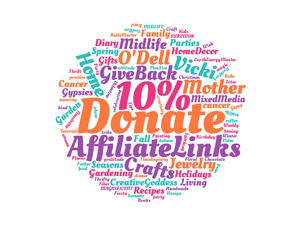 This post originally posted 5/12/2009 Updated 5/6/2016