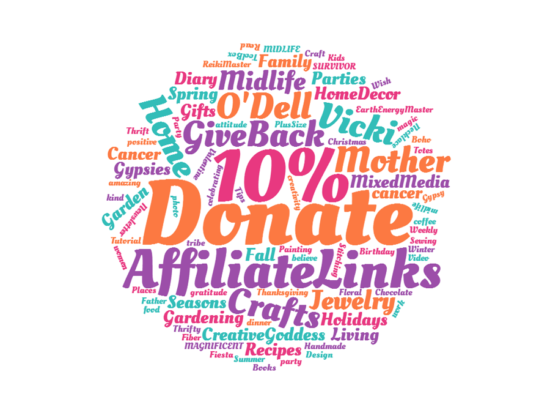 This is something I've been thinking about for a few months now.
How can I give more?
As a creative lifestyle blogger I come up with ideas, execute them, photograph, edit, write and promote my little brain to mush. I betcha that some weeks I work enough for at least a full-time job and then a part-time job on top of it.
I get something out of it too. I've made friends through blogging and social media channels that mean the world to me. Both the people I've met in person and those I haven't met. Yet.
I get to make things and work with good companies.
Plus I get to chat with you each day.
All of that fills my heart with joy.
But I wonder sometimes, "How can I give more?"
Most of you know I had a scary year and a half dealing with breast cancer but I'm through it now and growing strong. I have told my husband that when I can I want to donate a bit to Stewart's Caring Place – the cancer support center that was HUGELY helpful in getting me through.
But that hasn't happened. Yet.
Then it came to me. I want to donate 10% of my affiliate income to charity.
I want to start with Stewart's Caring Place for the rest of 2016.
I will post a report at the end of each month to let you know how we are doing.
Yes, we.
Because this includes YOU!  YOU get to help. 
How?
Here is how it works.
When I post a project, (like a craft, and sometimes, even a recipe) I will do the "shopping" for you. I will find as many of the items I can from around the web and make a little shopping list for you in the supplies.
If you click on the link it will take you to the site where you can buy the item(s).
It won't cost you anything extra. Not one dime more.
At the end of each month I will tally the commission from affiliate links and I will donate 10% right off the top.
I also try to keep 1 affiliate ad in the right hand side bar just above my photo. If you see something you like there be sure to click through.
NOTE: Affiliate links use cookies. Cookies allow the affiliate programs to track where you go as you click from site to site on the web (Most websites use cookies these days). Most affiliate link cookies are good for 30 days – meaning that you can click on the link, add and item to your shopping cart, and come back a few days later and purchase your items and we will still get the credit.
The big exception to this is Amazon.com – the cookies on Amazon are only good for 24 hours. So if you click on a link in my site, fill your shopping cart, and then go away for a day or two none of those items will count toward our affiliate donation. If this happens, it's best to empty the shopping cart, come back and start over so that we get the credit.
Now I know that the first few months might be kind of slim as we get rolling so I'm going to donate $20 no matter what happens. 
So the bottom line is this –
Read, Click, Shop, Enjoy and Donate without spending any extra money! 
If you would like to learn more about Stewart's Caring Place and the support and resources they provide to families for FREE please click here.