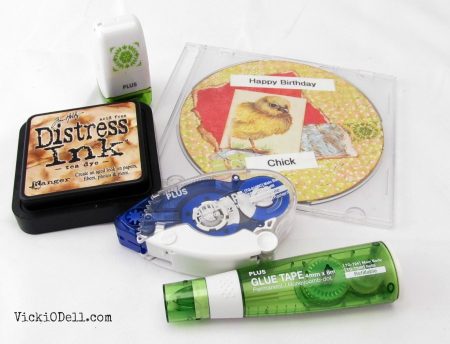 I don't know about you but now that so much of my information is stored online I don't use discs as much as I used to. In fact, I've come across a few lately that have "gone bad". I'm not sure exactly what the terminology is for that but they are useless. I decided that in stead of tossing out the discs I would find something to do with them. And this something is a fun upcycled CD greeting card.
Supplies:
Old CD – with or without case
Tim Holtz Distriss Ink – Tea Dye
Plus America Glue Tape –
Plus America GlueTape – Permanent – Honeycomb
Plus America Decoration Roller Mini – Wreaths
Craft Knife
Paper – Que Sera Sera K&Company
Image  – from candy wrapper
Label Maker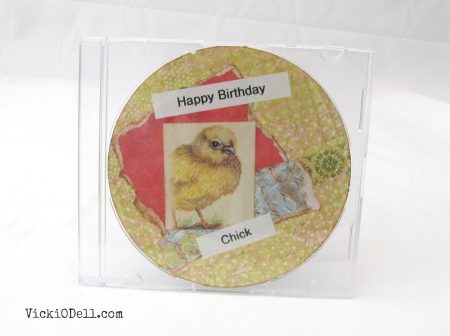 Adhere paper to the CD with Glue Tape Permanent Honeycomb.
Carefully cut excess paper away from the CD with the craft knife and Ink the edges with Tea Dye ink.
Run the Wreaths Decoration Roller Mini from the center to the outside edge of the CD.
Tear pieces of coordinating paper and ink the edges. Adhere with Glue Tape.
Add image with Glue Tape.
Print out sentiment with label maker and adhere.
This is a fun upcycled CD card I created for FaveCrafts back in 2013 featuring Plus America Glue Tape that I thought I would share here. Don't worry if you don't have the EXACT same materials I used. Experiment, have fun and use up some of the surplus craft supplies that I know you've got lying around.