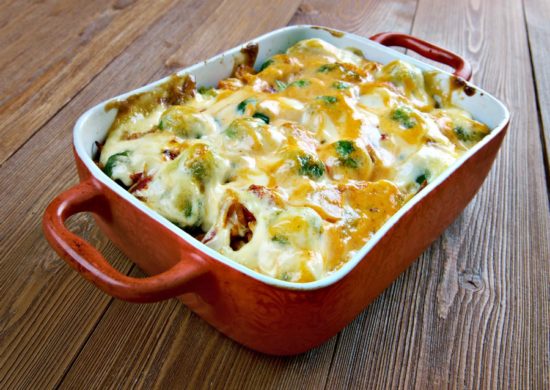 Chicken Divan with Brown Rice is my go-to dish when I need to feed a lot of people without breaking the bank. It makes for great lunches and is a perfect way to use up leftover turkey.
Chicken Divan with Brown Rice
4 chicken breast halves
1 cup water
1 bay leaf
1 small onion, sliced
1/8 teaspoon pepper
dash salt
1 pound fresh broccoli or 1 package (10 ounces) frozen broccoli
1 can (10 3/4 ounces) cream of chicken soup
1/2 cup mayonnaise, dairy sour cream, miracle whip or plain yogurt (I've tried them all…depends on what I have on hand)
1 teaspoon lemon juice
1/2 teaspoon curry powder
1 cup (4 ounces) shredded sharp Cheddar Cheese
In large pot place chicken breasts.  Add water, bay leaf, onion, pepper and salt.  Cover and simmer for 30 minutes or until breasts are tender when pierced with sharp knife.
Cut meat into 2×4 inch pieces; set aside.
Cook broccoli until crisp-tender.
Spread cooked brown rice on bottom of 9x9x2 inch baking dish.
Arrange broccoli on top of rice. Place chicken over broccoli.
Mix together chicken soup, mayonnaise, sour cream or yogurt, lemon juice and curry powder.  Pour over chicken and broccoli.
Sprinkle cheese over top.  Cover with foil.
Bake at 350° F. for 30-35 minutes or until bubbling hot.  Do not overbake.  Makes 4 servings.
If you are lucky you might have some left over for lunch. Having some for lunch depends on weather I made side dishes or not.  It's got all the food groups…who needs side dishes?
P.S. This is a great recipe for using up left over turkey as well.