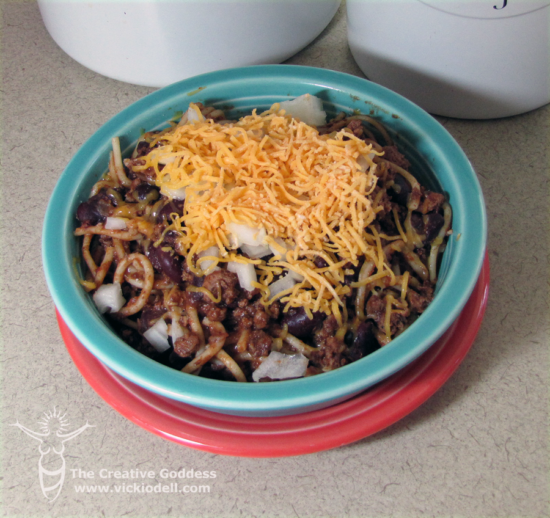 Cincinnati Chili Spaghetti is one of my family's all time favorite dinners. It's really easy to make but the chocolate in the sauce makes it extra special.
Cincinnati Chili Spaghetti
2 teaspoons olive oil
1-pound ground turkey
1 large onion
2 large garlic cloves, minced
2 tablespoons chili powder
1 teaspoon dried oregano
¼ teaspoon cayenne pepper
¼ teaspoon ground cinnamon
1/8-teaspoon ground allspice
1/8-teaspoon ground cloves
1 large bay leaf, broken in half
1 can (16 ounces) tomato sauce
1 can (141/2 ounces) defatted lower-sodium beef broth
1-tablespoon cider vinegar
½ ounce unsweetened chocolate, chopped
Salt to taste
1-pound spaghetti
1½ cups grated cheddar cheese (optional)
1½ cups chopped onion (optional)
1 can (16 ounces kidney beans, drained and rinsed (optional)
In a medium saucepan, heat the oil and cook the turkey, onion, and garlic over medium-low heat, stirring often until the onion is tender and the turkey is white, 5 to 7 minutes. Drain off drippings.
Add the chili powder and cook, stirring, for 1 minute longer.
Stir in the oregano, cayenne, cinnamon, allspice, cloves, and bay leaf. Add the tomato sauce, broth, vinegar, and chocolate.
Bring to a boil over medium heat, then reduce the heat to medium-low and cover the pot. Simmer for 30 minutes. Uncover and simmer until the sauce is the consistency of a thin chili, 10 to 15 minutes longer. Discard the bay leaf and season to taste with salt. (this recipe can be prepared up to 2 days ahead to this point and refrigerated. Reheat to a simmer before serving.)
Cook the spaghetti in a large pot of boiling salted water until al dente, 7 to 9 minutes.  Drain well.
Place the spaghetti on a serving platter or individual plates. Ladle the sauce over the spaghetti and serve with the optional cheese or onion garnishes.
Originally published on October 29th 2011