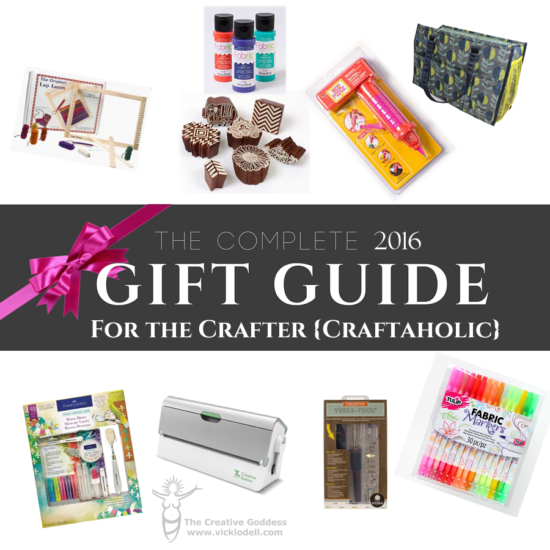 I know it may seem mighty early to some of you but – are you ready for some Christmas shopping?
I'm teaming up with a bunch of your favorite home, craft and DIY bloggers to bring you the Complete Holiday 2016 Gift Guide! Yup, we are taking out all of the guesswork for you! Each blogger picked a different theme to shop for and included links to all their favorite gift items.  So no matter WHO is on  your gift giving list we've got you covered! And not just for this year but maybe for upcoming birthdays too! All you have to do is hop around the links and you can get all your shopping done from your couch, in your pajamas.
I'm shopping for the CRAFT lover (craftaholic) in your life, which was easy for me since I'm a crafty maniac!  All I had to do was compile a wish list for you all from some of the many products from brands I already own and LOVE.
First, a tiny bit of business.

I've had my Silhouette Cameo Designer Studio for a little over three years now and I LOVE it. In fact, I sold all of my other electronic cutting devices because I love it THAT much. I use it for home decor, crafts, paper crafts and all sorts of other projects. If someone on your list already has a Silhouette Cameo you can purchase JUST the Designer Studio portion so they can create their own artwork and .SVG files. OR you can purchase a gift card that allows them to download .svg files directly from the Silhouette store.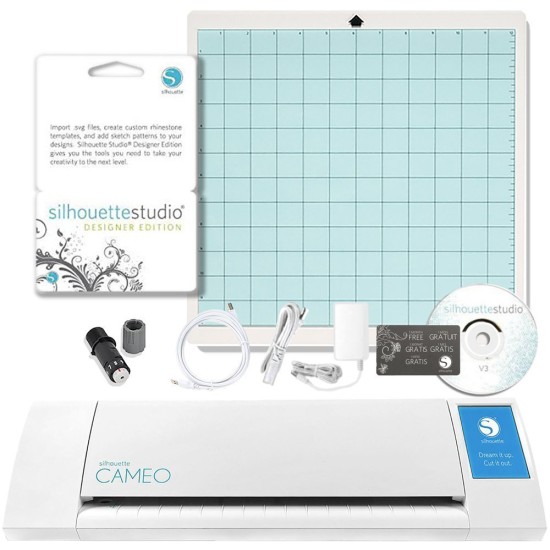 I've used my Fabric Creations paints and blocks on several projects this year and I'm crazy about them.  Fabric Creations paints and block printing stamps are great design tools for creating one-of-a-kind, artisan crafted textile projects. Use your printing blocks for creating unique fashions, quilts, textiles, stitching, embroidery, patchwork, scrapbooking, card making, or printing wrapping paper. Super soft fabric ink is the perfect formulation for stamping, stenciling and brushing on fabric. Fashionable colors. Machine washable. Waterbase and non-toxic.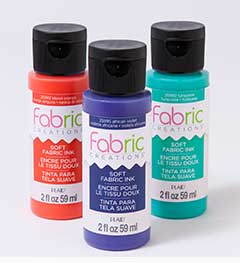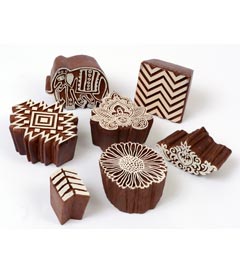 The Mod Podge Mod Melter is a super fun tool. Create your own embellishments to paint and attach to projects. The Mod Melter is a unique new shaped tool to use specifically with Mod Molds and Mod Melts. Hold the tool above the molds and fill them with ease! You can also use the Mod Melter as an all-purpose glue gun to make everything from molded embellishments to home décor, paper crafts, and more!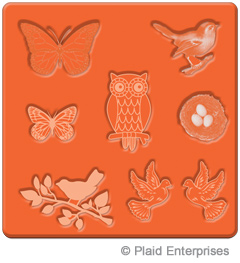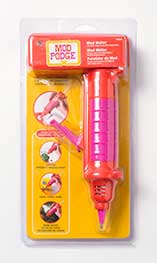 Harrisville Designs Lap Loom – This is the loom that started it all for me. I haven't written much about my weaving on the blog but let me tell you, this is one of the most relaxing and enjoyable crafts I've ever tried.  I love this little starter loom. It's very sturdy and easy to use. I think it is perfect for someone just starting out no matter what age.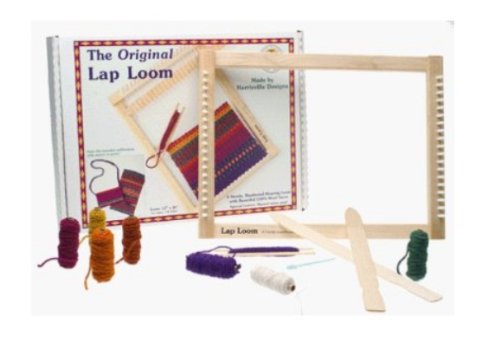 FaberCastell Design Memory Crafts Mixed Media Art Supplies are among some of my all-time favorite supplies ever! I love the Gelatos and and the PITT Artist Pens but the Aquarelles are among my favorite supplies to take along when I travel. I don't have that 36 Piece Lettering Set but you can bet I'm going to be sending that link along to my husband.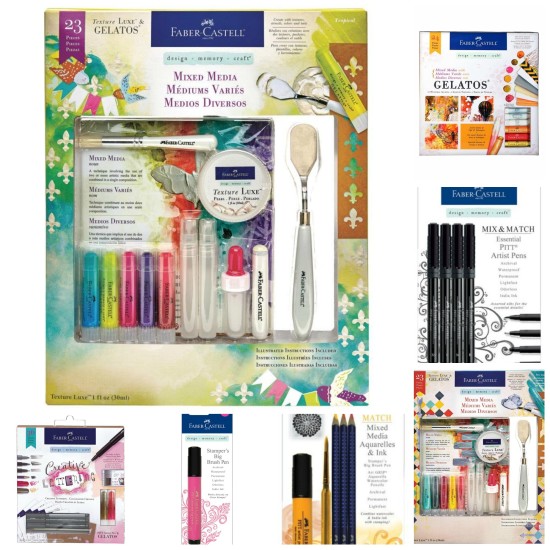 Faber-Castell – Stampers Big Brush Pen – Pink Madder
ImpressArt Letter and Numbers Sets, and Stamping Blanks – Metal stamps and blanks aren't JUST for making jewelry. Think drink identifiers, dog tags, home decor items, shoe lace adornments and so much more. Metal stamping is a huge trend for your jewelry design friends and a great gift for the crafty teens on your list. Don't forget the blanks!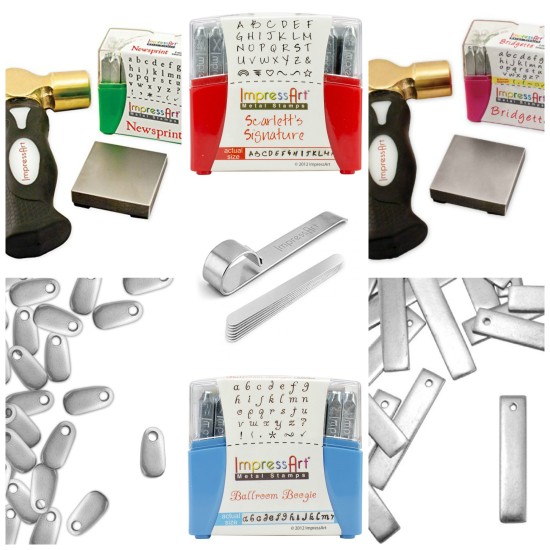 Tulip Fabric Markers – a good general craft item that I love. Not only can you personalize your entire wardrobe, including sneakers, but they are also great for home decor projects like pillows, pillow cases, napkins and so much more! I love that they come in so many colors but also so many tip styles – chisel, fat, thin – anything  you could ever want.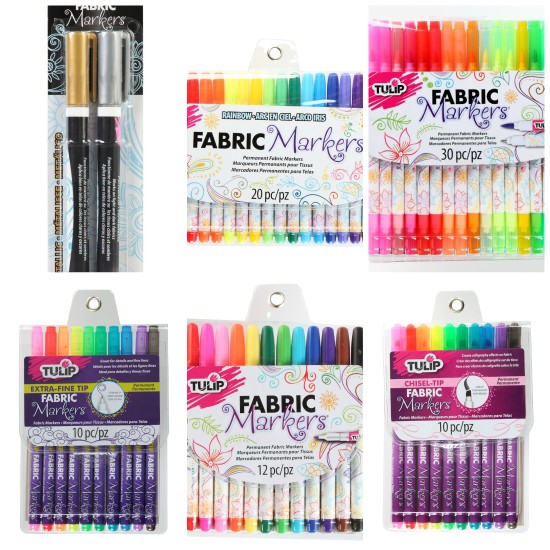 Tulip Fabric Markers shown above
Xyron Creative Station – I just received the newest version of this and I'm in LOVE. It is so easy to use that I use it a few times a week. I love that it takes up less space on my table, it uses both the 9″ and 5″ refills. Use it to laminate, make stickers and magnets all in one easy to use machine. Great for all of your teacher friends, classroom moms, troop leaders, scrapbookers and creative fanatics, like me.
 Creative Options 5 Pocket Knitting Tote – The description says it's a knitting tote but I don't knit. However, it is the best tote I've found for keeping my current projects together. I'm working on that lap loom (above) and I took it, some yarn and several items for embroidery with my on a recent trip. I was able to put scissors, transfer pens and all sorts of other items in the end pockets. It was super handy. I love it so much I have TWO! 
Oh yeah, and I'm SURE that if there is a knitter on your list you will be their favorite person if you give this gift!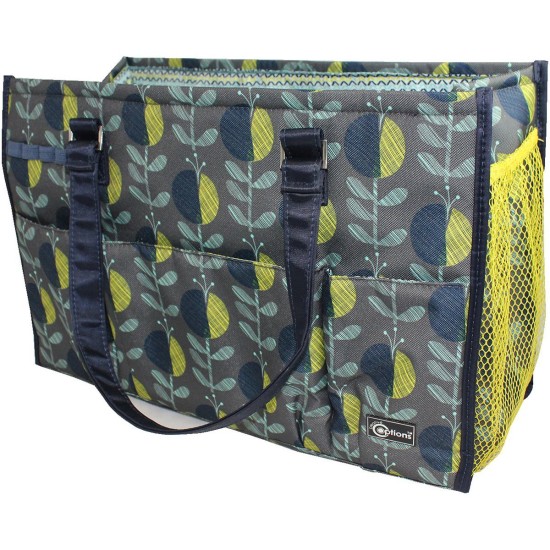 Creative Options 5 Pocket Knitting Tote, 15.5″ by 6.5″ by 10.25″, Navy, Gray and Yellow
Walnut Hollow Creative Versa-Tool – – I bought a wood burning tool from another company a while back and several of the tips MELTED. Uh, that makes them pretty hard to use, don't ya think? So I picked up the Walnut Hollow Creative Versa-Tool and I've not had that problem. Wood burning is lots of fun (Don't think I'm too weird but I LOVE the smell of the burning wood!). This is one of those gifts that is great for a lot of people but if you have a teen guy on your list he might really like this creative tool.
Be sure to check out what my blogging friends recommend on their Complete Gift Guides by clicking on a square below.