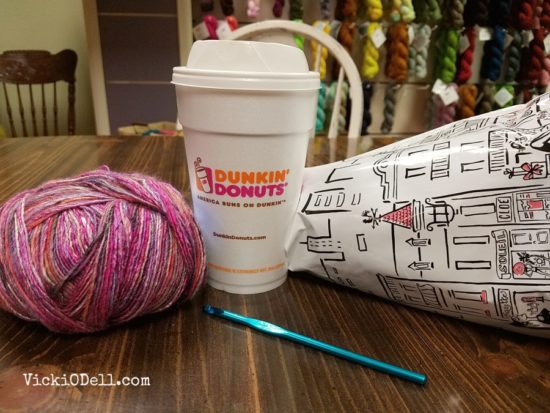 I'm on a crochet bender and I'm not even upset about it.
I wrote a post a couple of weeks ago asking if you were a serial crafter – and in case you aren't sure, I also included a "how to know if you are a serial crafter list".
I'm DEFINITELY a serial crafter. I explore one thing and then another in a long string of lessons on what I like and don't like. Which techniques set my creative brain on fire and which ones stretch my brain and teach me something new. Like how to tear out the same row of stitching 7 times and not throw the whole project across the room.
Usually my craft explorations last a week or two and then I'm off to something else. HOWEVER, this crochet bender has carried me through since March this year.
I have known the basics of crochet since around 4th or 5th grade when one of my teachers taught me but I've never been very good at it. I could never manage to get my edges even and I would get frustrated and give up.
But I took a beginner crochet class at a local yarn shop in mid-March and it has rocked my crafty world!

I made a dishcloth that looked really good in the class.
And then I made FOUR more dish cloths! I was finally getting pretty even tension and all of my edges lined up nicely.
Then the shop had a yarn sale and I decided it was time to try out something other than cotton yarn and dishcloths.
The first yarn I worked with was the purples in the last image. I made a bandanna scarf and it was lovely.
I then tried a burgundy and orange silk yarn. While it felt divine it was a bear to roll into a ball. It was marked down because it was tangled and it took FOREVER to untangle it. Bandanna scarf number 2.
Finally, I made a third bandanna scarf with a lovely t-shirt type yarn with fun summer colors and that was bandanna scarf number 3.
All of this was during the months of March and April. And I just kept on crocheting.  I eventually went to the craft store for yarn and tried what I consider "every day" yarn.
Besides, my credit card was getting mad at me!
I'm in love. But I have a fickle heart so I'm sure to be moving on some day soon.
Or not.
I changed up the pattern of the bandanna scarf I got at the crochet shop and will be sharing it in an upcoming post.
Do you crochet?