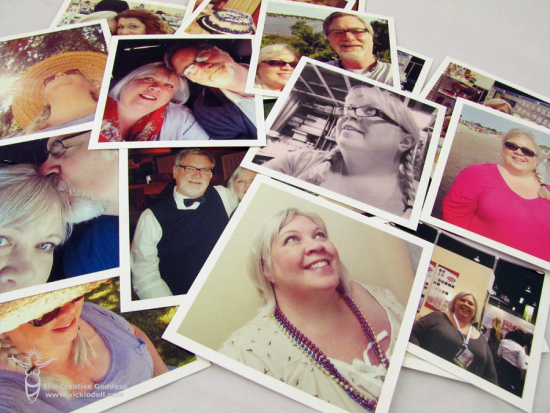 If you come across a photo of me between 1980 and, maybe, 2012 you will probably find me sticking my tongue out. I've hated having my picture taken for as long as I can remember. HATED. IT. My way to communicate my displeasure was to stick my tongue out. Not very grown up, I'll admit. But effective.
But why? It probably has a lot to do with not only FEELING fat and ugly but also being told many times as I was growing up that I was fat and ugly. I'm not going to go into a sob story about what a rough childhood I had, about how I didn't feel like I belonged in my own family and about the abuse and dysfunction – face it, many of us have been through that. I'm not special. I'm just going to say that period in my life probably has a lot to do with the WHY.
But I got to thinking – cancer will do that to ya – that if I were to be gone from this earth my kids wouldn't have any photos of me smiling, enjoying my life (which I do!) or just being ME. How long would it take them to forget what I look like? How will they tell my great great grandbabies about me without a photo?
There was that and then I took a photography class the first part of the year and we talked about printing photos and I realized I haven't printed out a photo, especially of me, in a VERY long time. They all sit here on my computer or my phone collecting dust.
So I decided to change the whole photo taking and photo printing dynamic. I sent out an order to the first company I found that printed Instagram photos and I went back through my account and printed out a whole slew of photos of myself (and some of family members too).
You know what? I don't hate them. And when I shared them at a family dinner recently my kids were calling "dibs" on which photo they wanted. I can't begin to tell you how loved I felt
So how do you Get More Comfortable in Front of the Camera?
Take photos of yourself. Selfies give us the chance to practice in front of a camera. And you know what mom says, "Practice makes perfect". Or at least less awful. Selfies aren't just for the teeny bopper fashion bloggers either. Let's show the world what a grown woman looks like.
Give family and friends the OK to photograph you. You will feel more comfortable with someone you love behind the camera.
 Be patient and take (or allow others to take) lots of photos. Just like when I'm shooting a project for this blog –  I might like 1 out of every 30 shots – so take lots.
Be natural. Do things you normally do, hold items that you often have in your hands. Keeping with your regular routine and props will allow whomever is taking the photos to get a more candid photo.
Try not to make too much of a fuss. So what if you blinked or your hair is misbehaving. Just go with it. This is real life.
Be silly. Allow some shots of you being totally silly.
Try to forget that the camera is there. This will help you relax and not fret so much.
Finally, you don't HAVE to look at the photos. I mean, if this is a real hang up for you allow them to be taken and then taken away. Just allow your children to have those memories of you.
I'd love to add to this list – do you have any tips for how to get more comfortable in front of a camera?