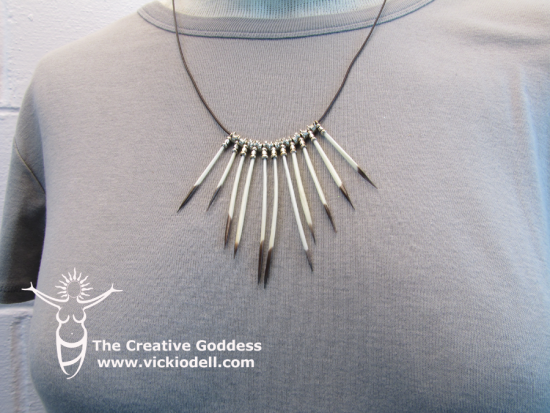 I've been interested in creating jewelry with natural materials lately. Stones, bones, leather and even porcupine quills. Porcupine quills may seem like an unusual material to use to make jewelry but they work quite well.
I really like the variation in colors and the natural but modern look they have. Not to mention they are very lightweight.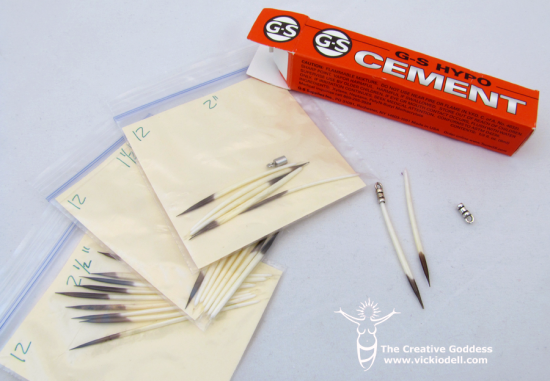 To make a porcupine quill necklace of your own you will need:
Porcupine quills
Leather cording
GS Cement
Sterling silver end caps for the quills and the ends of the leather
Sterling silver closed jump rings for spacers
Very fine sandpaper
Sterling Silver clasp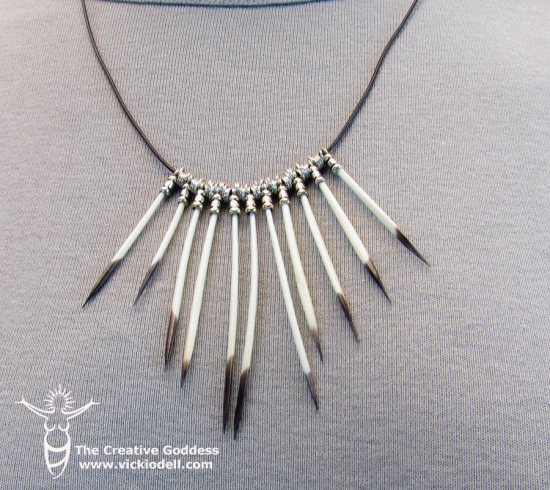 Directions:
Sand the pointed ends of the quills where the barbs are lightly just to remove the sharp points off the barbs. You might also want to carefully sand the point of each quill just to round the tip off a bit.
Attach and end cap to each quill with GS cement and let dry.
Cut leather cord to desired length.
Add quills with 5-7 jump rings in between for spacing.
Attach two more end caps to the ends of the leather.
Attach a clasp.
 What is the most unusual thing you've made jewelry from?
[mc4wp_form]
If you don't want to do the hard work of tracking down the supplies I've taken care of that for you. (Contains Affiliate Links)