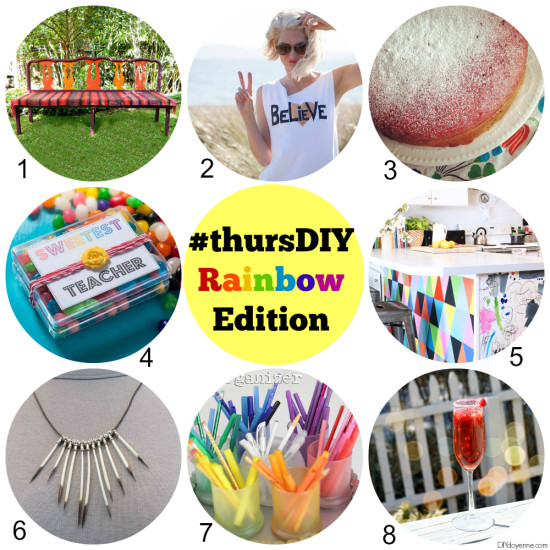 Happy (almost) the weekend! What do you have planned? If you are looking for some DIY inspiration here is a wonderful round up of colorful DIY projects to create this weekend.
1 Turn a Found Headboard into a Bench – a fabulous colorful bench – with Mark Montano.
2 BelieveAltered T-shirt DIY  with Trinkets in Bloom.
3 Can't Be Beet Beet Cake from RadMegan.
4 DIY Teacher Appreciation Gift  from Cathie Filian.
5 Learn how to create your own Painted Countertops with Alisa Burke and add a whole lot of color to your kitchen.
6 Porcupine Quill Necklace from ME. Tired of making jewelry with the same old supplies? Try something really different!
7 Create a Rainbow-Colored Lazy Susan Organizer with PLA and get all of those crafty supplies organized.
8 Whip up a tasty ChamWOW with Margot Potter and celebrate spring – and the end of tax season!
That's it for this week. Have a great weekend!
What would you like to do to add more color to your life?
[mc4wp_form]