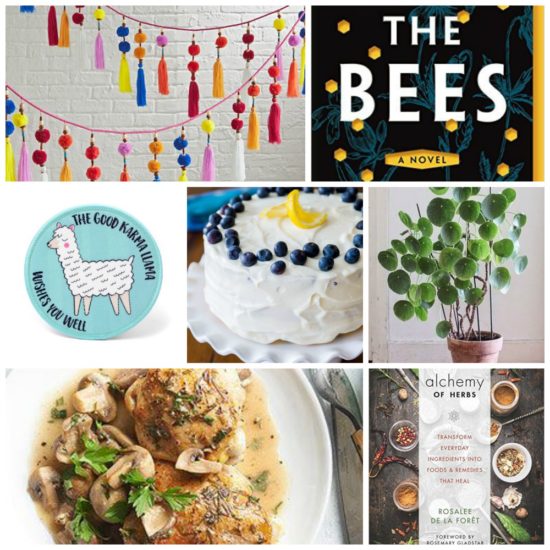 It's hard to believe we've gotten through the "F" month here in NE Ohio without freezing our freckles off. It actually wasn't too bad. I just hope we don't pay for it until June. Because I'd rather be out with my hands in the dirt than shoveling snow. Know what I mean?
As you probably know, I spend more than a little time online during the week. Between this blog and the other sites that I contribute to I'm always digging around somewhere. Most of the time it's a quick drive-by but now and again I stop and dig into some little treasure that captures my attention. Or imagination. Or both. I thought I'd start sharing some of that with you all.
Found Treasures and Trends:  February Edition
This post contains some affiliate links for your convenience. Click here to read my full disclosure policy.
The first thing that sucked me in was this super fun Festival Garland from the Land of Nod. I've got two of them sitting in a shopping cart as I type and as soon as I am sure of where I will put them I'm going to SUBMIT that order!
If you haven't already figured this out the Llama is the new fox or owl… depending on which critter you went mad for last. I was standing in line in World Market just after Christmas and I picked up a little llama decoration and I told the ladies behind me that the llama was gonna be the next big thing. They just smiled. Some people are no fun! There are TONS of fun llama accessories on Etsy.  (The Good Karma Llama shown above can be found here.)
For plant collectors (like me) I've been seeing tons of Pilea Perperomioides (Chinese money plant) in home decor. It's a fun little plant and who doesn't want one around when it has the word MONEY in it?
My husbands birthday was the 13th and I made this Lemon Blueberry Layer Cake from Sally's Baking Addiction for him. He loves me a little bit EXTRA now. 🙂
I also made this super tasty Three Herb Chicken and Mushroom Recipe that was super tasty. I served it with roasted Brussels Sprouts and a lemon tart for dessert. YUM-O!
I read The Bees: A Novel by Laline Paull and fell madly in love with it.
I also pre-ordered this book  Alchemy of Herbs: Transform Everyday Ingredients into Foods and Remedies That Heal and I can't wait to get my hands on it. 
Oh! And one more thing I noticed… beds on floors. There were tons of home decor images where the bed was on the floor. My husband says it's because people are finally realizing that a box spring is a waste of money. Do you think so? 
On a personal note I had my 6 month exams and got a clean bill of booby health! I'm 2 years out now and except for the broken arm that is pretty well healed I'm doing really well. YAY!!