I'm kind of a scarf junkie and this one uses one of my favorite stitches – the granny stitch. I love them both!
Scarves are versatile work horses. Wanna add a pop of color to a boring black outfit? Add a scarf! Sick of your hair blowing in your face and your ears freezing? Pull that scarf up over the back of your head and tuck it in your coat. Warm in the afternoon but chilly in the evening? Add to the Granny Stitch Bandanna Scarf until it becomes a shawl!
Did you know that if you wear a scarf you can turn your thermostat down 10° and still be comfortable?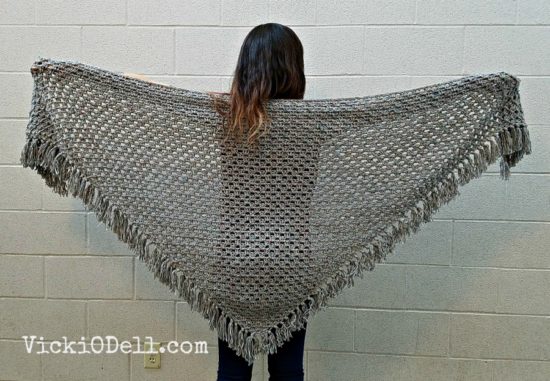 Granny Stitch Bandana Scarf – Shawl size!
It is easy and quick to make up and a perfect pattern for beginning crocheters. You can also easily customize the size by continuing the pattern repeat until the scarf is as long as you want it to be. Add stripes, add fringe or skip the fringe and created a crochet border. It's all up to you!
Granny Stitch Bandana Scarf
Sizes/Measurements
This is totally customizeable. Smaller people can get away with 2 skeins of yarn while someone with more bust might go 2 1/2 or 3 skeins of yarn.
A full shawl will use 3-4 skeins of yarn.
Materials
Yarn – WW to chunky
scissors

Abbreviations
st – stitch

Gauge
There is really no gauge with this pattern as you just make it as big as you want it.
Difficulty Level
Easy

Notes
-Please read all notes before beginning the pattern.
-Ch 3 counts as a dc stitch.
-Ch 4 counts as a dc and ch 1 stitch.
Instructions
Ch 3, 2 dc in second ch from hook. Turn.
Row 1: Ch 4, counts as dc and ch 1 here and throughout, (3 dc, ch 3, 3 dc, ch 1, dc) in ring, ch 4, turn. (8 dc)
Row 2: 3 dc in first ch 1, ch 1, skip 3 dc, (3 dc, ch 3, 3 dc) in next ch 3 sp, ch 1, skip 3 dc, 3 dc in next ch 1 sp, ch 1, dc in third ch of beg ch 4, ch 4, turn. (14 dc)
Repeat row 2 adding a set of 3 double crochet to each side/end until desired length.
Break yarn and weave in all ends.
Yup, that's all there is too it. Enjoy!