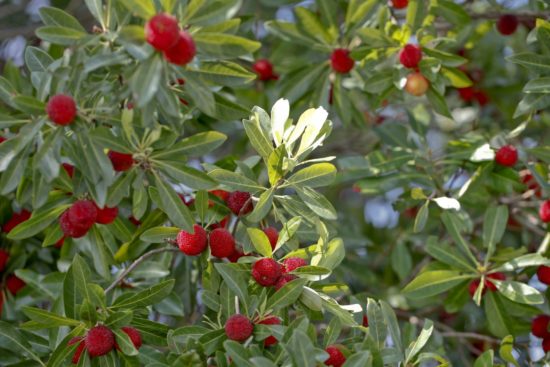 Bayberry is both a shrub and a tree. All members of the bayberry family (also known as wax myrtle, waxberry, or candelberry) are classified botanically as Myricaceae, and many varieties are found all over the world.
This month we are taking a look at American bayberry (Myrica cerifera ) which is a shrub that grows 3–8 ft high. American bayberry is found in marshes and bogs near sandy Atlantic coastal areas, as well as in similar areas along the shores of the Great Lakes. American bayberry is the variety most often mentioned by herbalists.
American bayberry is and evergreen and consists of knife-blade shaped shiny leaves that have small spots on both sides. When crushed in your hand, bayberry leaves (and the bark) produce a pleasing, balsamic aroma. However, they have a very bitter, astringent taste. The small berries are in globular clusters at stem junctions, crusted with a greenish-white waxy substance sprinkled with small black flecks. The exterior of bayberry root bark is mottled, with smooth reddish-brown cork underneath.
Both American bayberry and English bog myrtle are classified as astringent herbs. Some evidence suggests that these herbs have antimicrobial capabilities, in that they are able to prevent the development of pathogenic activity from microbes, and are useful in regulating mucus in the body.
Both varieties' bark and roots contain starch, lignin, gum, albumen, tannic and gallic acids, astringent resin, a red coloring substance, a vaporous oil, and an acid similar to saponin. Powdered bayberry root is useful as a bowel astringent in the treatment of diarrhea and colitis, a soothing and helpful gargle for the common cold or a sore throat , and as a douche in the treatment of leukorrhea, an abnormal white or yellow mucoid discharge from the vagina or cervix. In the Herbal Materia Medica, bayberry root bark is classified as an astringent, a circulatory stimulant, as well as a diaphoretic, a remedy which dilates superficial capillaries and induces perspiration, sometimes used to reduce fevers.
The berries when boiled in water, produce myrtle wax, which is composed of stearic, palmitic, myristic, and oleaic acids. This is used in making bayberry-scented soaps and bayberry candles, which are fragrant, more brittle than bees' wax candles, and are virtually smokeless. Four pounds of berries produce approximately one pound of wax.
Bayberry bark has traditionally been used to tan leather and dye wool.
Bayberries can be ground to use as spice, or added to broths.
Powdered bayberry root, if inhaled, can cause convulsive episodes of both sneezing and coughing.
Several varieties of the bayberry family are used as emetics, which are agents used to induce vomiting, and can also cause nausea.
Tincture of bayberry preparations are also available in some locales. Usual dosage is one-half teaspoonful in water.
The wax coating on the fruit of several species, known as bayberry wax, has been used traditionally to make candles.
The foliage of American bayberry is a traditional insect repellent, used by campers to keep biting insects out of tents.
Several species are also grown as ornamental plants in gardens.
Bayberry is sometimes used as a gargle for sore throat, as a douche for vaginal discharge, and as an ointment for skin ulcers and wounds.
Some people also use it to stimulate the circulatory system.
The table below contains affiliate links. While clicking on the link and purchasing an item may result in abitwitchy.com earning a commission you will not pay more for your items. There is no extra cost to you. Thank you for supporting us!
This post is in no way to take the place of advice from a physician. Please read our Terms of Service for more information.