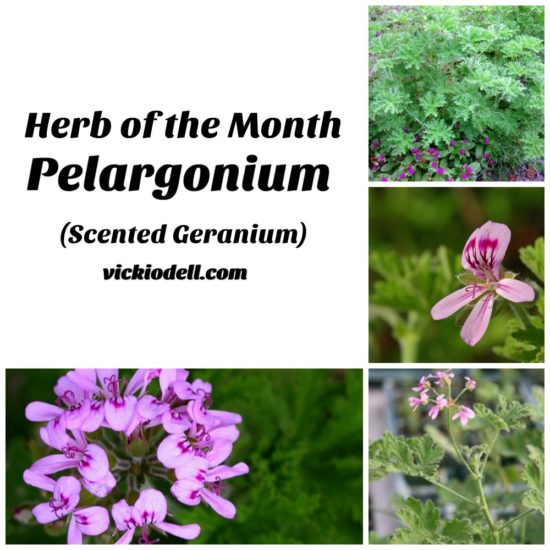 Rose Scented Pelargonium is part of a group of plants often called Scented Geraniums. Pelargonium comes from the Greek pelargos which means stork. Another name for pelargoniums is stork's-bills or crane's bill due to the shape of their fruit. The specific epithet graveolens refers to the strong-smelling leaves.
Apricot, apple, lemon, mint, and strawberry represent only a fraction of the wonderful pelargonium varieties that are available to the collector of unusual flowering plants. Altogether there are some 80 varieties available, yet at one time there were more than 250.
Despite their common name, scented geraniums are unrelated to the true geranium (Geranium maculatum). They are members of the Pelargonium genus, which includes the beloved garden geranium that is cultivated in window boxes and ornamental gardens throughout the US. Semi-woody and tender, these perennials are native to the Cape of Good Hope in South Africa and, if left outdoors, rarely survive the winters typical of most of the United States.
While the garden geranium is well-known for its bright flowers and occasionally variegated leaves, scented geraniums are noted for their aromatic foliage. The leaves of different varieties also display a range of shapes, sizes, and colors.
The flowers are less showy than the blooms of the familiar ornamental, but they're attractive and may be white, pink, red, lavender or even yellow. Versatile as well as varied, scented geraniums can be tucked into the garden between the herbs and flowers, grown in hanging baskets, trained as standards (tree-like forms), or simply planted in pretty pots to grace a sunny kitchen window or—during the warmer months—to occupy a spot near an entryway, inviting the touch of passersby.
The essential oil from scented pelargoniums has been used in the perfume industry since the 1800's when P capitatum 'Attar of Roses' was identified as an inexpensive substitute for fragrance extracted from rose petals.
The leaves, which retain their fragrance for years, can be dried and crumbled, then sewn into sachets or stirred into potpourri. Mesh bags containing the newly picked herbs can be steeped in bathwater to perfume it.
Geraniums can be used in the kitchen, too, for jams and jellies, cakes, flavored sugars and syrups, puddings, custards, and beverages such as tea or wine. Add one or two leaves of rose geranium to hot apple jelly to give the spread a delectable extra hint of flavor.
Tips for Using Pelargonium
Add leaves to flavor ice tea, butter, apple jelly and ice cream.
Layer rose scented pelargonium leaves in flour or sugar to add a subtle and distinctive flavor  and aroma to bakedgoods.
Dry leaves on screens or paper towels, then add to potpourri sachets or sleep pillows.
Use fresh cut leaves or branches in fresh flower arrangements, wreathes and bouquets like  tussie mussies.
Leaves and rose geranium essential oils can be used to create homemade face creams, bath oils,  soaps, toners and other toiletries.
Layer leaves in corn starch to create scented body powder.
Pelargonium Sources
Colonial Creek Farm–colonialcreekfarm.com
Goodwin Creek Gardens – goodwincreekgardens.com
The Growers Exchange – thegrowers&exchange.com
Logee's Plants for Home and Garden – logees.com
Mountain Valley Growers –mountainvalleygrowers.com
Richters Herbs–richters.com