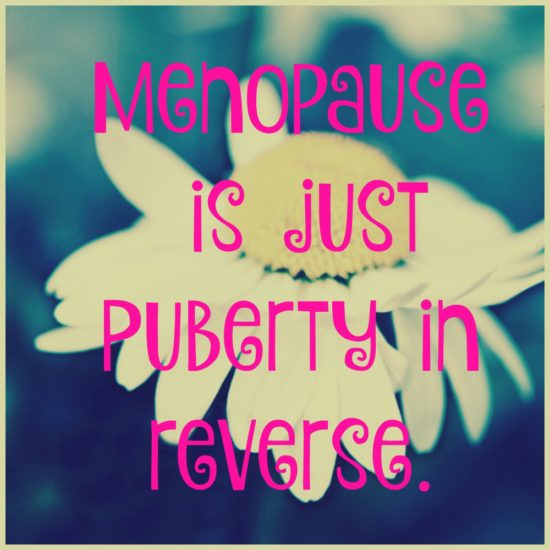 Transitions are hard.
They are usually big life disrupters and they can knock even the strongest women for a loop. But here are a few things you should know.
Transitions are a part of life – birth, puberty, marriage, motherhood, menopause and even death – just to name a few, are some of the things you will transition through.
Transitions take time – don't expect to go from full-time mom to empty nest without some growing pains. And honestly, menopause is really puberty in reverse – with all of the trauma and heartache you can imagine – and even some you can't imagine – with less acne and fewer periods.
Transitions can be painful, scary and HUGE – That's all I'm gonna say about THAT.
On the bright side.
You got through birth and puberty (I'm assuming) and you can get through the other life transitions too. It's just something that happens – the price we pay for living this amazing life.
Transitions are temporary. Puberty doesn't last forever even though it feels like it might and neither will being a teenager, young mom or an old woman.
Transitions will make you amazing! You never know what you are capable of until you've had to go through some difficult transitions.
Try this!
Many of life's transitions are accompanied by a ceremony of some sort. Marriage and motherhood, various stages of your childhood. Baptism and funerals. If you are going through a transition like menopause that doesn't normally have an associated ceremony create one.
Invite some friends over and create a meaningful ceremony to help you cross over into your second act, second half or crone phase. Whatever you want to call it. Make it a big deal.
You can do the same with a divorce. Have an UNwedding. Get unmarried.
You'll be amazed at how ready you are to cross over into the next phase of your life when you've properly said good-bye to the previous phase.