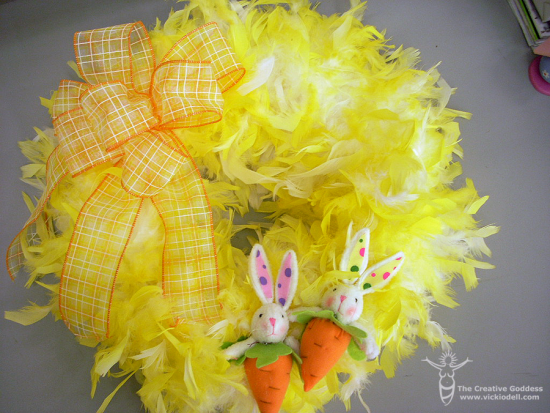 I ADORE using feathers in crafts and home decor.  To my way of thinking they are PERFECT for a Springtime wreath with all of the birds returning to the frozen tundra of North East Ohio.  So I just couldn't help myself…
This post contains some affiliate links for your convenience. Click here to read my full disclosure policy. 
Supplies:
Design Master-Colortool Floral Aerosol Spray – Aspen Yellow

Small stuffed animals – local discount store
May Arts 1-1/2-Inch Wide Ribbon, Orange and Yellow Dots  – or ribbon of your choice
plastic gloves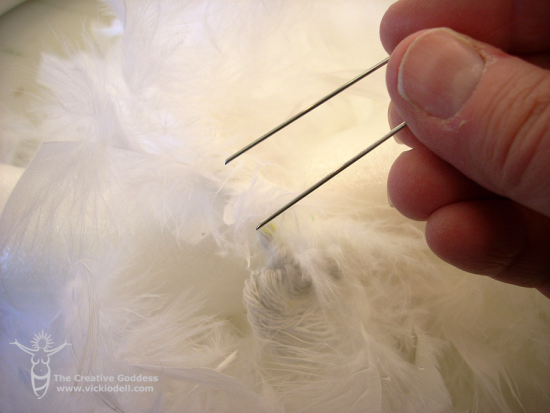 Attache the ends of  a feather boa (be sure not to get the little marabou ones but the big fluffy feathered ones) to the foam wreath form with a greening pin.
I then wrapped the feather boa around the wreath form. Over and over and over…
Wrap the boa so that the center cording lays side by side with the next wrap so that it covers the foam center. When you run out of boa secure the end of the boa and then begin the next boa with another fern pin.
I used four boas for this wreath and it's very full. You might get away with 3.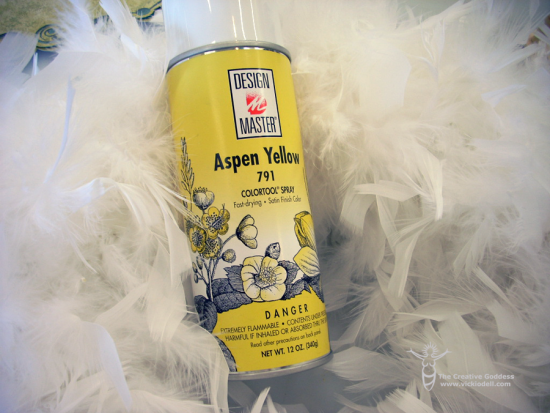 Spray with Design Master Spray Paint in Aspen Yellow to color the feathers (feathers + spray paint = VICKI!!).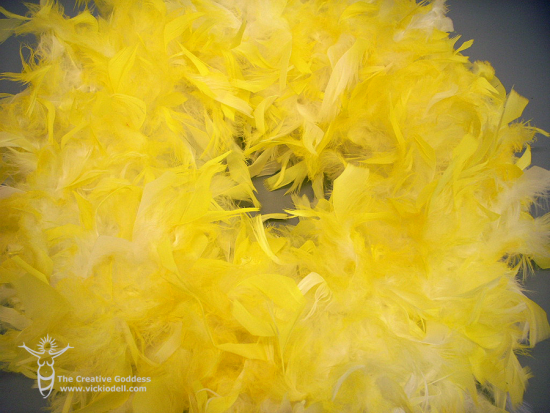 Give the feathers several light sprays of Aspen Yellow.  While the paint is drying fluff the wreath with your fingers. You may want to wear gloves while fluffing up the feathers.
The paint makes the feathers flat and kind of stiff (kind of like Aqua Net Hairspray… remember that?). Fluffing the feathers up helps them to dry faster and retain a light, fluffy, baby chick appearance.
Leave the feathers in toward the center (down near the foam wreath form) white to give depth and reinforce the baby chick look.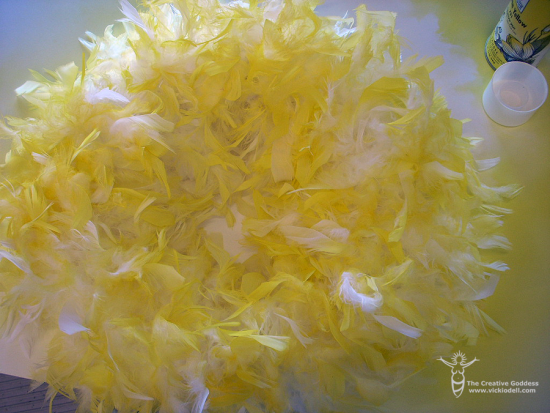 For an Easter wreath attach two small, plush, bunny/carrot figures by making a wire coil and sticking it through the bunny right under his chin.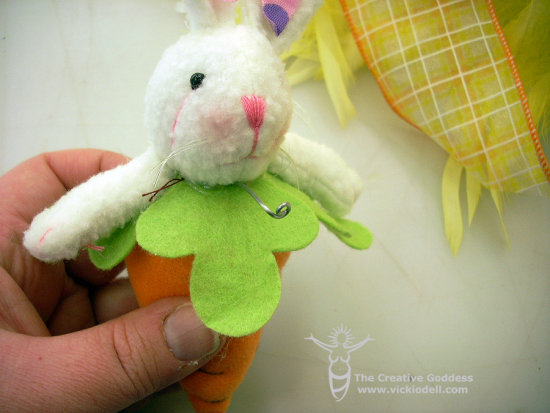 Be sure to cut the wire long enough to go through the foam to the back of the wreath.
Repeat for the second bunny.
Twist the two ends together to hold the little guys on.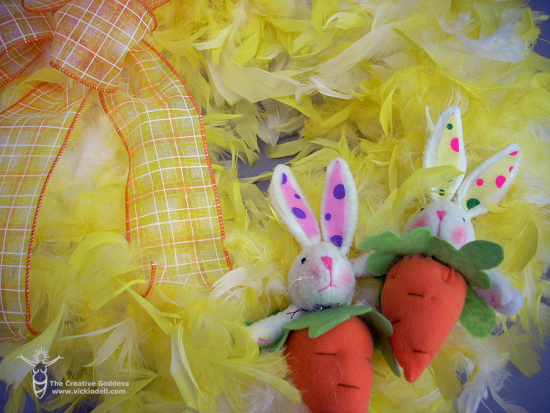 Finally, make a big, loose bow secured with floral tape covered wire and attach it with another fern pin.
I have bow making videos here and here to help you.
I LOVE THIS!!  It makes me think of BIG BIRD from Sesame Street! 🙂