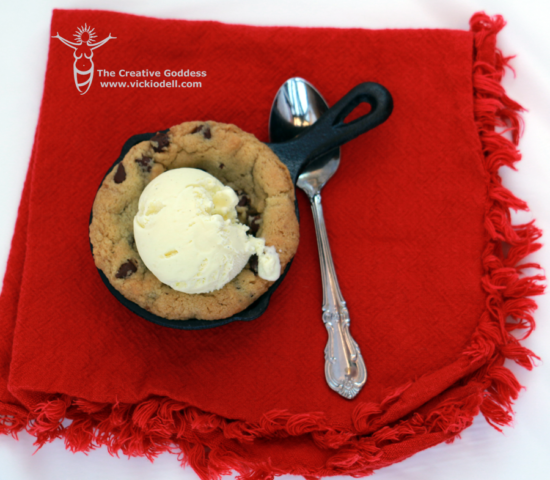 I have made this rule for myself now that I can't have sweets unless I make them MYSELF. Let me tell ya, that will cut down on a whole hellofalotta calories. Well, that is, if you stick to it. And I have to say, I've done pretty well. Except for that tasty lemon blueberry scone someone treated me to from a local bake shop last week. I mean, it was a GIFT forcryin'outloud, how could I turn that down? I mean, I don't want to hurt anyone's feelings or anything AND it was homemade. Just not by me in my home.
I can justify just about anything if I want to.
This Individual Size Chocolate Chip Skillet Cookie Recipe is great because it makes single portion desserts that are the perfect size. Not too much and not too little.
This post contains some affiliate links for your convenience. Click here to read my full disclosure policy.
I purchased 8 of the mini cast iron skillets for my family but you may not need that many. You can buy 4 of them here or 2 larger 5 inch skillets here.
The mini cast iron skillets are the perfect size for individual portions
Individual Size Chocolate Chip Skillet Cookie
Ingredients
2/3 cup brown sugar
2/3 cups granulated sugar
1/2 cup vegetable shortening
1/2 tsp salt
2 tsp vanilla extract – the good stuff
1 tsp apple cider vinegar
1 tsp baking soda
1 egg
2 cups unbleached flour
2 cups (fair trade) chocolate chips
Directions
Preheat oven to 375°
Lightly spray the mini cast iron skillets with cooking spray and place them on a baking sheet
In the bowl of your mixer beat sugars, butter, shortening and salt, vanilla, vinegar and baking soda until smooth
Add the egg beating until smooth and all ingredients are combined
Mix in the flour and the the chocolate chips
Fill the pans a little more than half way with dough
Bake 10-15 minutes depending on how many mini skillets.
Remove baking tray from oven and allow to cool a bit.
I had left over dough and made a roll to freeze for another day when it's just the two of us.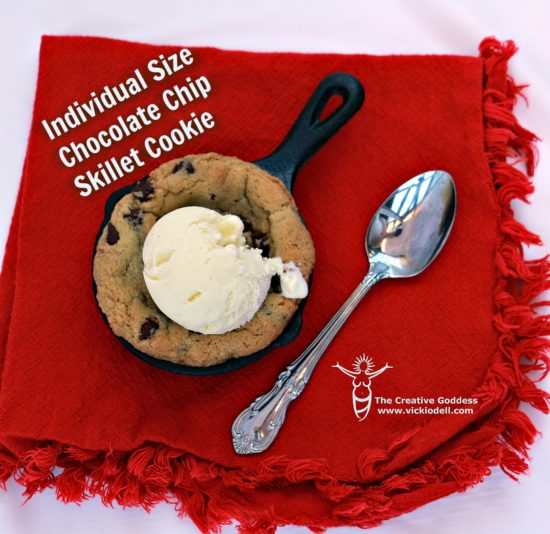 Now I'm thinking of all sorts of things I can bake in tiny skillets. What recipe would you try first?