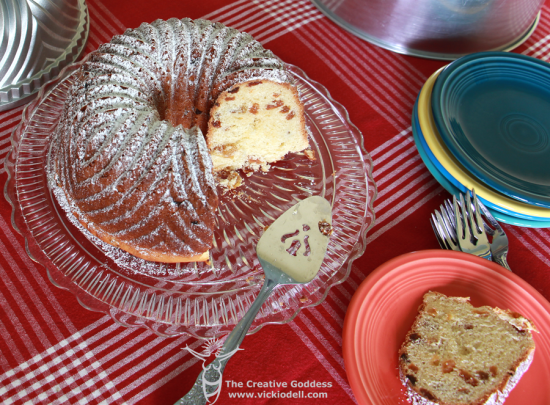 I'm a little late to the party – again. I just discovered The Great British Baking Show on Amazon Prime a couple of weeks ago and fell in love with it. The contestants are so NICE to one another and the bakes make my tummy rumble. For some reason when I saw the Kugelhopf recipe I just knew I had to make one right away. After all, it was one of the few bakes that I felt I might actually be able to pull off!
This post contains some affiliate links for your convenience. Click here to read my full disclosure policy. 
The first thing I did was head over to amazon and buy a Nordic Ware Bundt Pan and then I hit the web for a little research.
Kugelhopf is a dense cake like bread that is often eaten on coffee breaks or with/for breakfast. It originated in Germany (I lived there for 3 years and never heard of it!) but is eaten in many European areas these days. It's shaped like a cake but the recipe uses yeast so it's more like a bread and it often has dried fruit, almonds and maybe even a little brandy depending on who is making it.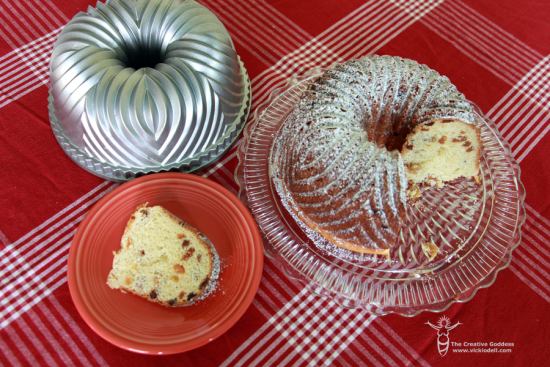 I love the combination of orange and golden raisins in this version. It's lightly sweet but not overly sweet.
This is a very basic recipe as it was my first attempt but it is so very good. I'm definitely going to branch out and try other mix ins next time!
Ingredients:
1 1/2 teaspoons active dry yeast (it is less than 1 envelope so be sure to measure – or buy a jar of yeast)
2 tablespoons warm water (115°F)
1 cup whole milk
7 tablespoons unsalted butter, cut into tablespoon pieces and softened – set aside 1 tablespoon for the pan
6 tablespoons granulated sugar
3 3/4 cups all-purpose flour
1 teaspoon salt
2 large eggs
1 1/2 cups golden raisins
1 teaspoon fresh orange zest
1 confectioners sugar
Stir together yeast and water in a small bowl and let stand 5 to 10 minutes. You should see the yeast bubble and foam a bit, if it doesn't do anything you will need to start over. (Either the yeast is bad or the water is too hot/cold if you see no reaction.)
Heat the milk, 6 tablespoons butter and granulated sugar in the microwave in a microwave safe bowl, stirring, until mixture is warm and the butter is melted, and sugar is dissolved.
Put flour and salt into bowl of standing mixer – slowly mix to blend.
Add the yeast mixture and warm milk in a slow stream, mixing at low speed with paddle attachment.
Increase speed to medium and beat in eggs 1 at a time.
Beat in raisins and orange zest. Continue to beat until dough is smooth and sticky about 5 minutes.
Butter kugelhopf mold with remaining tablespoon butter – make sure to evenly coat all areas of the pan.
Scrape spoonfuls of dough evenly into the mold. It will be very sticky.
Cover the top of the mold with oiled plastic wrap (I spray it with Pam) and a kitchen towel and let dough rise in a warm place until it almost fills pan. Try not to let the dough rise too far over the top of the pan. This will take about 2 hours.
Preheat oven to 400°F.
Remove the towel from the raised dough and gently peel off plastic wrap in order to keep the dough from falling.
Bake the kugelhopf in the middle of the oven for 15 minutes, then loosely cover it with foil and continue to bake until golden brown and a tester, or toothpick, inserted in center comes out clean, 20 to 25 minutes more.
Cool in pan for 2 minutes, then invert cake onto a rack to cool completely.
Lightly dust with confectioners sugar.