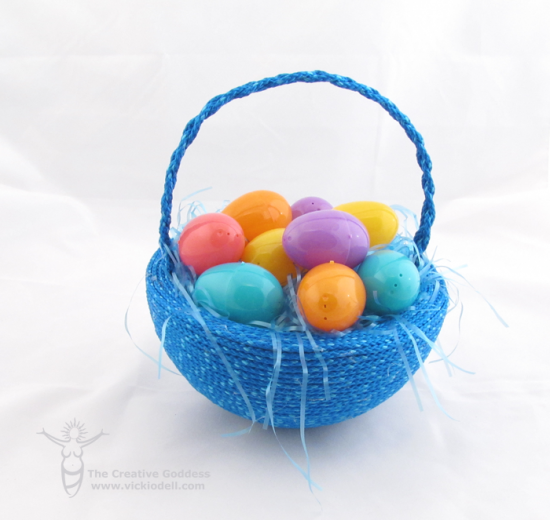 While I know that Easter crafts and decorations are usually soft pastels I'm a fan of bright and bold colors.
You know, I've never understood why spring and Easter colors are so pale when, to me, Spring is all about an abundance of color after months and months of snow and gray skies. Why ARE spring colors so dull? What is that the tradition?
Anyway, when I was asked to create a project for Easter with a hollow half-ball from Smoothfoam I knew mine was going to be BOLD. But a BOLD what I wasn't so sure about. That is, until I was digging around in the garage and found this bright blue poly rope from another project and the idea for a bright and bold Easter basket was born.
See how to make it below.
Also, I wrote a post a couple of years ago about DIY Easter Baskets. This post contains some affiliate links for your convenience. Click here to read my full disclosure policy.  
Supplies:
8″ Smoothfoam half-ball
Blue Hawk poly rope (I used 60-lb from Lowe's)
Hot glue gun
Fiskars Amplify Mixed Media Shears
Large metal washer
Darice 16-gauge Craft Wire
4 floral pins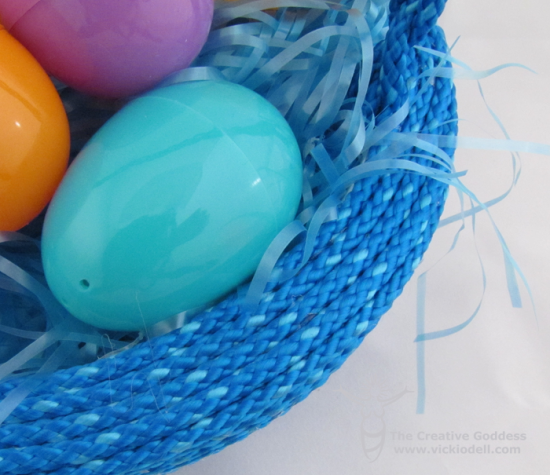 1.  Beginning at the top rim,  glue the rope to the Smoothfoam half-ball. Pick a spot to begin and add a drop of hot glue. Carefully hold the rope in place while the glue sets for just a minute or two.
2.  Add glue and lay the rope down in a spiral pattern as shown. Once the top rim is covered continue around the sides of the half ball, until you get to the center of the bottom of the basket and cut off any excess rope.
3.  Secure the end of the rope into the center of the bottom of the basket with more glue.
4.  Glue the large metal washer to the bottom of the basket to give it a flat, weighted base. As an option, you could also cut a 6-8′ length of rope and glue it in a circle to the bottom of the basket to help keep the basket from wobbling.
5.  To make the handle, cut three pieces of craft wire to desired length, and cut three pieces of rope just a bit shorter than the wire.
6.  Fray one end of one length of rope a tiny bit and pinch the white poly strands in the core. Pull them out from inside the blue rope.
7.  Feed the craft wire through the blue rope and repeat for other two lengths, then braid the three rope-covered wires together.
8.  Glue the braided handle to the inside of the basket and secure by pressing floral pins into the foam at an angle (snip the pins shorter if needed).
NOTE:  Due to the sharp wire ends, this basket is not safe for small children.