Winter wreaks complete havoc on my hands. I'm talking peeling and cracking, itching, and lots of irritation. I've tried loads of different moisturizers and lotions, and though they've helped, they've also fallen short. A while ago, a friend shared some beeswax salve with me. My hands were in heaven. I decided I needed to start making some at home so I could always have a tin of it next to the kitchen sink and my bedside. The healing hand salve really helps keep my hands soft. What more could I ask for?
Calendula, or marigold as it is commonly known, is very healing. Salves and poultices made with calendula have been used for ages. The dried petals are available in bulk in some health stores and online. The infused oil is usually easier to find. But if you can find the dried petals, it's super easy to infuse olive oil with it. Lavender is another favorite when it comes to healing salves and balms. Plus it smells amazing and is a great herb to use to promote relaxation.
The beeswax is also very healing and helps seal in moisture. Of course coconut oil is also very moisturizing and also adds anti-microbial benefits.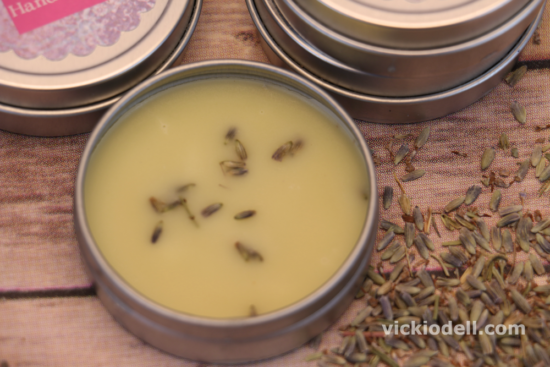 Lavender Calendula Coconut Hand Salve
Ingredients 
¾ cup of calendula oil
¼ cup coconut oil
15-18 drops of lavender oil
Lavender buds (optional)
Materials
Microwave safe dish
Wooden Spoon
Box Grater
Directions
Grate 1-1.5 ounces of beeswax into a microwave safe dish. I'm partial to Pyrex glass measuring cups and they make pouring the hot salve into the tins super easy.
Heat the wax in 30 second intervals until it is melted.
Add the lavender buds if using and allow them to steep in the hot wax a few minutes to soften. You may strain the buds out if you don't want them in the finished product or leave them in for more of a "rustic" look.
Add in coconut oil and calendula oil. Once everything has melted – you may have to heat the coconut oil a minute or two – add lavender oil.  Stir the mixture thoroughly.
Ladle the hand salve into the tins carefully.  Allow the salves to cool.
Either write the name of your salve on the tins with a permanent marker or create labels like I did.
NOTE: If you want to test the salve before pouring it into the containers, scoop some up a little bit in a spoon and let it set in the freezer for just a couple of minutes. You can always add more beeswax if you'd like the salve to be firmer or more oil if it is too firm. Salves are normally semi-solid and can be stored for a couple years in a cool dark place.
This salve is a little oily as it melts on your skin, but is absorbed quickly. Use it as often as needed – because it does absorb quickly you will find yourself reaching for it often.
Lavender Calendula Coconut Hand Salve isn't just for hands either – use it on your feet, lips, elbows, and knees, or anywhere that needs a bit of moisture.