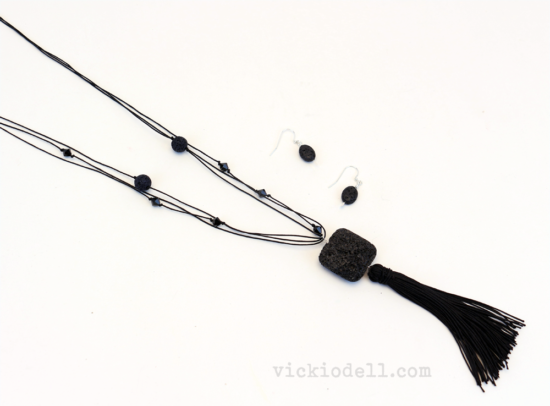 This post contains some affiliate links for your convenience. If you purchase an item after clicking a link I may make a teeny tiny commission at no extra cost to you.  Click here to read my full disclosure policy.
Last fall my son and his long-time girlfriend went on a vacation. They drove from here (NE Ohio) to Colorado and camped at state parks all along the way. For them it was a wonderful time. Me? I hate tent camping so I was totally happy with the lava beads they brought back for me as a souvenir.
I didn't have to get wet and listen to coyotes all night and then wake up unable to move from sleeping on the ground – but I got cool beads anyway. Score!
The large lava bead focal and two round beads in the necklace along with two oval shaped lava beads were in the gift I received. Just the right combination for a simple necklace and a pair of earrings.
I wrote earlier this week about menopause and transitions and then again about how lava stones or beads can help ground you during big transitions so it only seemed fitting that I pull out my gifted beads and create with them.
They are simple pieces to make.
I created the tassel with silk cord and attached it to the focal with a head pin that has a large wire wrapped loop at the top.
I attached the focal bead to three strands of silk cord and then suspended round lava beads and black crystal bi-cones with the help of knots.
The oval beads are on a head pin and attached to an ear wire.
Easy Peasy!
More like this:
Knotted Ceramic and Lava Bead Necklace
Tools of the Trade – Beadalon Bead Reamer
Lava Rock, Basalt, and Lava Beads