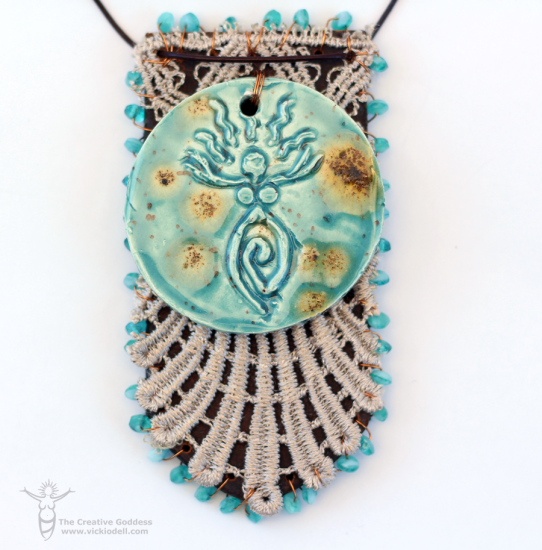 Well, here we are, week two of my jewelry project a week. Is it cheating that I started this late last fall and then finished it the beginning of January? I hope not. I finished this leather and lace pendant experiment so I could take it to CHA and wear it but then I ended up not packing anything that really worked with it – and the crazy pants GIANT name tag would have covered it even if I had.
So here we are. And here are some of the details in case you want to try your hand at making one too.
This post contains some affiliate links for your convenience. Click here to read my full disclosure policy. 
I cut the end off of one of my husbands old leather belts and then evenly measured where my holes were to go. I used the bench top drill press that I picked up at Bead Fest last summer.   The drill punched holes in that old leather like nobody's business!
Then I stitched down the lace from Simplicity that I picked out at CHA last winter with a fine gauge copper wire threaded with pretty turquoise beads.
I made two more holes in the leather and stitched down the big ceramic goddess bead with the same copper wire.
The last thing I did was to glue beading foundation felt to the back to make it more comfortable to wear.
A friend gave me the recycled sterling silver earrings that she made for my birthday a few weeks ago. They go great with this necklace because I don't mind that I have a mix of copper and silver. I don't mind either that that exact pattern isn't in the bead.
[bctt tweet="I've always heart that earrings and necklaces should be cousins and not sisters."]
That is, they shouldn't look EXACTLY alike but alike enough to look like they belong to the same family.  
Personally, I believe in wearing whatever makes you happy.