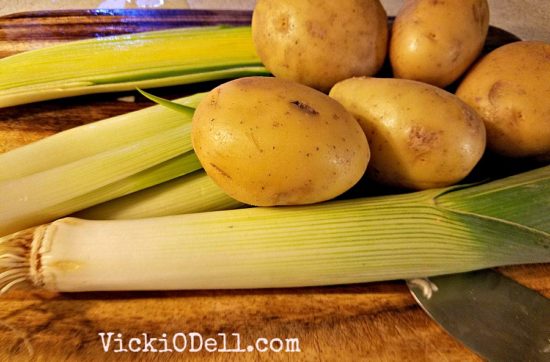 We were due for another snow storm this past weekend and I knew I wanted to make soup. Soup that was filling but healthy. Since I have a bit of an obsession with all things onion it's no surprise to me that as soon as I walked into the produce department of my local Whole Foods Market 365 I snagged four leeks. They were perfect in every way and too delicious looking to pass up.
Leek and Potato Soup just had to be on my menu. I knew I'd have a couple of dinners and maybe a few lunches if I was lucky.
This is a sponsored post on behalf of Whole Foods Market 365. All thoughts and opinions are brutally honest and 100% my own. Click here to read my full disclosure policy.
As you can see from my Instagram post I didn't forget about dessert. I'd never tried Halo Top and wanted to give it a try. That dairy free chocolate is amazing!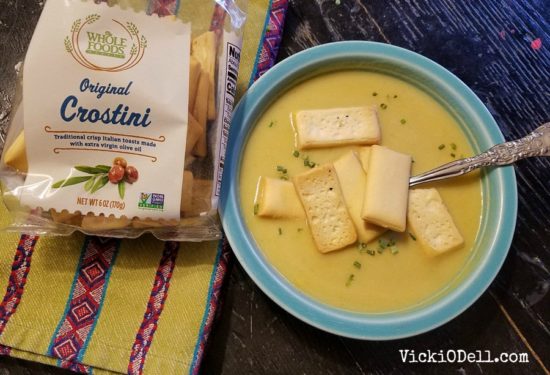 Ingredients:
3 tablespoons unsalted butter
4 large leeks, white and light green parts only, chopped
3 cloves garlic, peeled and minced
2 pounds yellow potatoes, peeled and roughly chopped into 1/2-inch pieces
7 cups low sodium vegetable broth
2 bay leaves
1 teaspoon salt
1/4 teaspoon ground black pepper
1 cup heavy cream
Chives for garnish – optional
Crostini – optional
Directions:
Melt the butter over medium heat in a large soup pot.
Add the leeks and garlic and sautee, stirring regularly, until soft and wilted, about 10 minutes. Adjust the heat as necessary so as not to brown.
Add the potatoes, stock, bay leaves, thyme, salt and pepper to pot and bring to a boil. Cover and turn the heat down to low. Simmer for 20 minutes, or until the potatoes are very soft.
Remove the the bay leaves, then purée the soup with a hand-held immersion blender until smooth.
Add the heavy cream and bring to a simmer.
Taste and adjust seasoning with salt and pepper.
If soup is too thin, simmer until thickened. If it's too thick, add water or stock to thin it out.
Garnish with crostini and chives if desired. I used dried chives from my garden.
The crostini hold up well to the soup and add a very satisfying crunch.
This soup tastes amazing as leftovers!!
You might also like:
MIDLIFE FRIENDS, DON'T CLEAN HOUSE ON MY ACCOUNT