I've had several weird dreams this month. Not that my dreams aren't usually pretty weird but these have been weird and informative. And the information I've gathered has led me to see the error of my ways – in my business, design career and blog. Here is how it went down and what I've learned from this big mistake.
Aside: I once dreamed about Loretta Lynn and Bob Marley getting married because she was pregnant with his "love child". I was at the wedding and that is how she kept referring to the baby. For those of you who may not know, Bob and Loretta reside on opposite sides of the veil, if you know what I mean. Not once but TWICE I had that dream. 
Anyway, when the craft industry found me I was working at a local craft store chain as their multipurpose floral designer, crafter, sample maker and craft/art instructor. I thought it was absolutely fantastic to get to work in a craft store and create with anything I wanted! And it was, for a while.
That is when I heard about the Craft and Hobby Association and started going to the conventions. I had started this blog a few months before I started my craft store job and what started off as a personal diary type thing moved into full-time craft related writing. I had already been writing for the DIY Network and other sites so it wasn't a huge leap.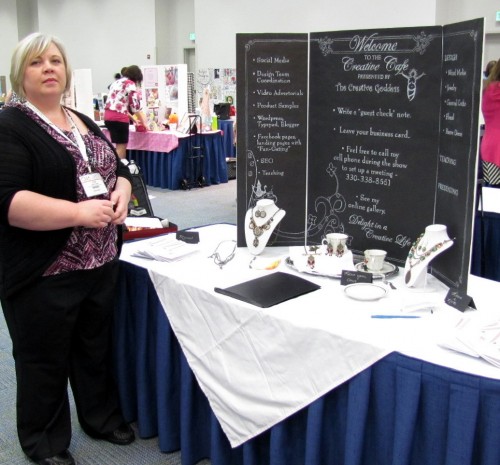 That turned into working for some really primo manufacturers and suppliers in said industry. I kept hearing that the money wasn't what it used to be, but heck, it paid better than the minimum wage I was getting and I didn't have to deal with the public. (If you've ever had a job in retail you know what I mean.)
So I gathered up as many design, social media, and writing gigs as I could and I waved bye-bye to retail.
My big mistake.
In order to pay bills and buy more craft supplies I had to take gigs that weren't exactly exciting to me. I started creating just to bring in money. I grew to resent some of the cheap supplies coming in from China – crafts that were mostly about assembling and not about REALLY creating. I had to do A LOT of work to make a little bit of money.
I kept that up as long as I could.
And then.
I got cancer.
It caused me to re-frame EVERYTHING.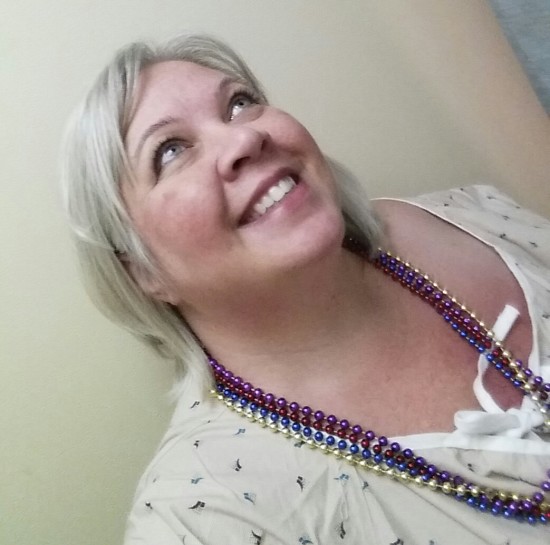 I was working for several of the biggest manufactures in the business at the time. Today I work for none. 
And then these recent dreams.
Being a wolf chasing food only to find, when I caught it, that it was poison.
Laying on my grandmother's bed tracing the stitches of her crazy quilt with my little girl fingers until I feel asleep. Which actually happened a million years ago.
Chasing "something" and never quite catching it. In these dreams I'm usually an animal chasing an animal.
And then there was this that I shared on my FB page, "I was fast asleep last night when I was awakend(?) by a black lab pushing at my arm with his nose. He just sat there. Looking at me. Beautiful boy."
The Build Up
The past 9 months I've stepped farther and farther away from the craft industry. I haven't even gone to the last two trade shows. And while I did miss my creative friends, creative people are still my tribe after all, I didn't miss all that went with attending the shows.
Mainly, hustling for work from companies who no longer wanted to pay for work.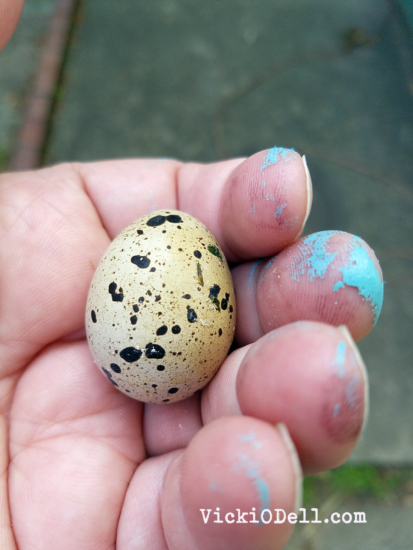 I got heavy into gardening and teaching others how to garden. I started raising quail for eggs and angora rabbits for fiber.
I took a couple of classes and learned to spin my own yarn and I was SMITTEN.
I love the idea of raising an animal, in this case French Angora Rabbits, feeding them, snuggling them and brushing out their loose fur and turning that into yarn.
Yarn. I made yarn!
And my love of creating began to come back. Only this time, with the help of those dreams, I've been able to see my mistake and return to my first love.
Fiber.
I've been crocheting, embroidering, sewing and assembling and feeling giddily happy about it the whole while.
Not even writing about it but simply enjoying the process.
My love of a good yarn, vintage sewing notions along with some hand stitching has filled me up again.
I'm glad I made the mistake of designing for money. I learned to create with supplies I wasn't in love with and that taught me that YES, I am an insanely creative, artistic person and I it is OK to own that!
There is absolutely nothing wrong with being proud and excited about knowing that you are a creative, artistic human. It's good to know YOU.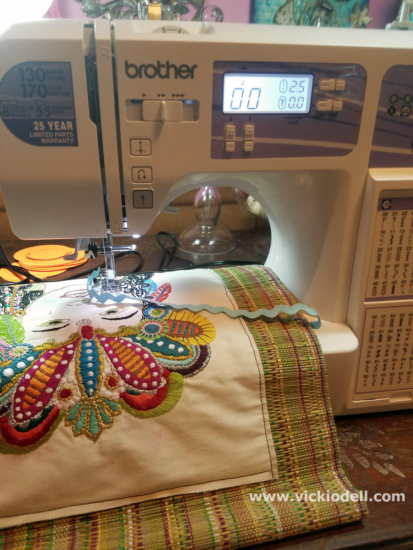 For years I heard my mother's voice saying I shouldn't brag. Worrying that other women would think I was placing myself above them.
Heck with that! I usually turn right around and teach others how to do what I've learned. I've been teaching art classes for the local parks and rec and I'm loving learning new things to teach to others. I've even been leading a "paint night" once a month and I've never considered myself a painter. But if I break it down and make it super simple even I can do it.
So what have I learned? 
I'm creative. It's a talent and I'm allowed to be happy that I have it.
I LOVE teaching other women how to make/save money to help support their families.
I find peace in handing down information to the next generation.
There is no shame in getting a part-time job so that you can support yourself when companies won't pay you.
It is absolutely OK to create with supplies that aren't "Hot" or "On Trend" right now.
It is soul filling to create things just for your own pleasure.
There is a lot to be learned about learning a craft from the ground up – or from rabbit to hook.
Sometimes I will need to create for money alone but it can never be my whole reason for creating again.
Food I grow myself tastes 10 times better than food I buy at the supermarket.
Supporting other creative women, when and were I can, feels great.
If your gut is telling you something LISTEN.
And so much more.
It's OK to make mistakes, we all do, but it's even better when you begin to see it is a mistake and you can summon up the courage to change directions.
Don't cling to a mistake just because you spent a lot of time making it.

                                                                                                   Dr. Laura
I know that most of my readers are over the age of 40 and I imagine many of you have found yourselves in a similar situation. Especially once all of the kids are gone. I'd love to hear a little about you and the things you've learned in the comments. Maybe I'll do a blog post in a few weeks just listing some of your wisdom.