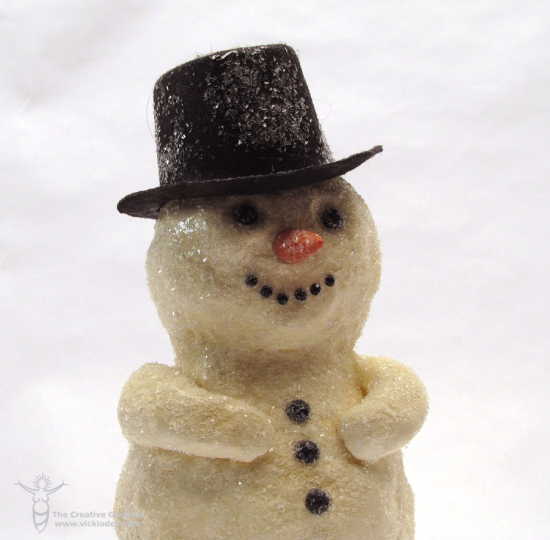 This is actually a project I made several years ago (2009 to be exact) but never posted the instructions here. I've been cleaning up my winter decorations and decided that it was time to share this little guy with all of you.
I display him every winter and he has held up quite well. I love the vintage feel and that he looks like he's made of vanilla ice cream. The really good stuff.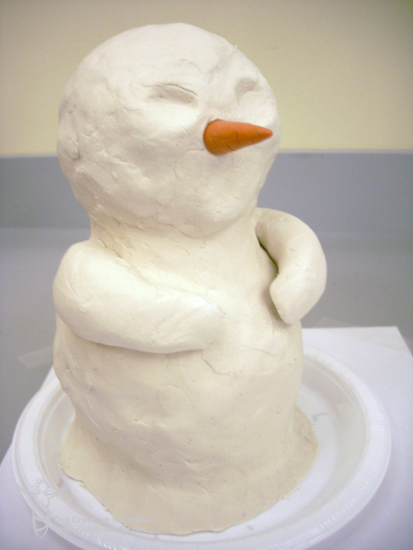 The body is super easy to make. It's two styrofoam balls, 1 large and 1 medium, covered in paper clay.
Create a base with the larger styrofoam ball and cover it with paper clay. Make sure to smooth the paper clay as you add more.
Add some paper clay to the top of the ball to help adhere the smaller ball.
Create arms (optional) and facial features by adding, removing and smoothing the paper clay.
I used a plastic carrot from the miniature aisle at my craft store and went ahead and pushed it in to create a space for it.
You might want to do the same for the eyes, mouth and buttons depending on the material you create those out of.
Set aside to dry for 2-3 days.
Mix some white acrylic paint with a little brown and wash over the dried paper clay to give the snowman a vintage look. Wipe the paint off the higher areas and let it set into the creases.
Adhere buttons, plastic beads or polymer clay beads you make yourself for the eyes, mouth and buttons.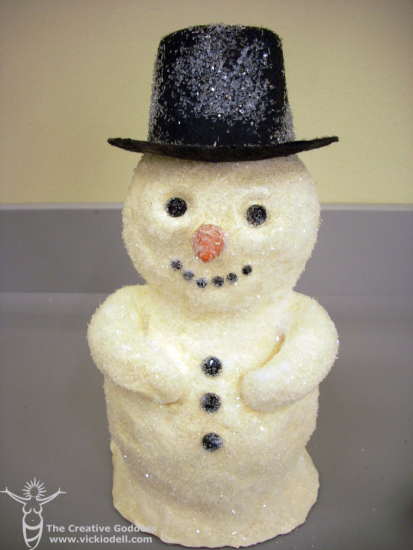 Add the hat.
Wash the hat and snowman in a thin coat of Mod Podge and then sprinkle with Diamond Dust.
Let the snowman dry completely.
This guy can be made in all sorts of sizes and shapes. It's a great addition to a mantle or in a smaller for for miniature winter scenes.
The great thing about him, especially where I live, is that he can stay out until spring.
Here is a quick amazon shopping list for supplies. It is an affiliate link.
Keep this snowman out of reach of small children as any loose button could pose a choking hazard. Also, the Diamond Dust is ground glass. 

[mc4wp_form]