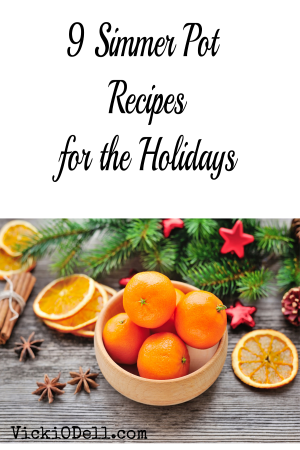 I'm a little obsessed with making sure my house smells good this time of year. I love walking into a home that smells like fresh baked cookies or freshly brewed coffee. It's calming, relaxing, and very welcoming.
Spices, citrus, and herbs are all delightful fragrances and they have a way of making new arrivals feel right at home. I'm definitely a "my home is your home" kind of gal and nothing gets that message across like a welcoming fragrance.
But ain't nobody got time to be baking and cooking all day just to make the house smell sweet. Right?
A simmering pot filled with herbs and spices will sweeten the air better than any artificial room freshener without adding nasty chemicals.
How to Make a Simmer Pot
This post may contain affiliate links for your convenience. If you purchase an item after clicking a link I may make a teeny tiny commission at no extra cost to you.  Click here to read my full disclosure policy.
Ingredients
Blend of dried herbs, spices, fruit peels and essential oils
Instructions
Bring a Stainless Saucepan of water to a boil, add spices, peels, herbs or essential oils into the water.
Reduce temperature to a low simmer.
Make sure to check the pot of simmering water every half an hour to make sure the pot does not run out of the water. Add additional water to the pot as needed. SET A TIMER if you are the forgetful type. Like me.
Use a Heat Diffuser to help keep your cookware from scorching.
Simmer Pot Recipes for the Holidays
The best thing about simmer pots? The fragrance combinations are endless.  Build one around your favorite essential oils or just use up what's hiding in the spice cabinet. Here are a few ideas:
Citrus spice
1 whole orange peel
1 tablespoon black peppercorns
2-3 cloves
Gingerbread
5-7 slices of fresh ginger
1 vanilla bean
1 clove
Apple cider
1-2 apple peels
2 cinnamon sticks
French Patisserie
1 cup dried lavender
1 tsp anise
1 Tablespoon nutmeg
1 Tablespoon whole cloves
1 Cinnamon stick
Peppermint-Rosemary
1 large sprig fresh rosemary
3 drops peppermint essential oil
2 drops rosemary essential oil
Pumpkin spice latte
1/4 cup whole roasted coffee beans (or 3-5 drops coffee essential oil)
1 teaspoon pumpkin pie spice
cardamom
all spice berries
House in the woods
2-3 sprigs rosemary
1 tablespoon juniper berries
pine or other evergreen twig
Vanilla
1 vanilla bean
2 drops vanilla essential oil
1 drop clove bud essential oil
Fresh Pie
Cinnamon sticks
Apple peels
Orange rinds
Whole cloves