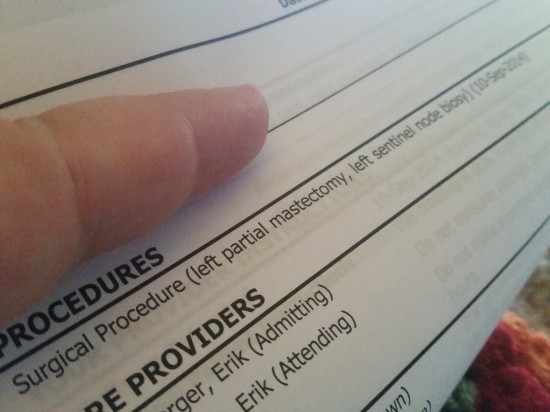 Never in a million years did I ever expect to hear a doctor say, "I'm afraid you have breast cancer."
Only one relative in my family on both sides has ever had cancer – and it wasn't breast cancer.
My people get diabetes and heart disease. Not cancer. If the doctor had told me I was diabetic I would have been far less shocked. I would have been mad at myself for not taking better care of my body knowing the risks I was facing but I had no clue about this breast cancer thing.
Breast Cancer. I didn't even know how to begin to process the concept.
The first thing I did was to reach out to people I trusted. Right after I got the call from my doctor I called people that I knew would support me and love me. Just a handful of people because I couldn't bear the burden alone.
I called my bestie and we went shopping and my husband took me out to dinner to keep my mind off the doctor's appointment I had the next day. I called a couple of people that I thought could help me talk through the shock I felt.
I reached out to keep from falling into a big hole that I thought would swallow me up.
At my doctor's appointment I was given the diagnosis along with a whole medical library of information. Too much information to absorb all at once. Too much information to make any kind of a choice regarding my health.
I was overwhelmed.
I reached out some more. I reached out to people I knew and people I didn't know. Surely someone out there could help me understand what was going on. I felt like I needed to find my tribe. Breast cancer survivors who could tell me how to move through this step-by-step and come out the other end whole and strong.
I reached out and was thankful when anyone reached back to help me along. Even if it was just a few steps along.
One of the difficult things about breast cancer is that there are so many different kinds and many different treatments that it's hard to find someone who has been down the same path and can tell you what comes next.
The other thing is that there is pain. It's like when women who have experienced childbirth keep quiet around a first-time expectant mother. No one wants to scare the poor woman. It's a great amount of pain but we somehow manage to get through it. No sense in scaring a new mom.
It's the same with breast cancer – there can be pain. A great deal of pain if things go wonky like they did for me. And that is when you have to dig deep. You have to dig deeper than you've ever gone into your own mind to find the tools to cope with what you are dealing with. You have to invent diversions or coping mechanisms on the fly. You have to rely only on YOU to get to the next step. It might be one of the hardest things you've ever done and no one else can do it for you. Dig deep.
The reaching out and digging deep lead to finding love. At least they have for me.
It seems as if my capacity for loving has tripled. I love anyone who makes this easier or more bearable in any way. I have found more love for myself. I'm kind of amazed at what I've been through already. I always thought I was kind of tough but I surprised myself. I've also determined that I'm worthy of rest, healing time and good self-care. I have learned that it is OK to love myself enough to give myself what I need.
I have found great love and compassion for other's too. At one point before my surgery last Wednesday I found myself explaining to the pre-op nurse what had happened in my pre-op test. I was upset and talking and before I knew it I found her with her head in my lap sobbing. Turns out her husband has cancer too and she's scared for him. All I could do was wrap my arms around her, stroke her head and try to comfort her. I found myself saying, "We're all in this together."
We are all in this together.