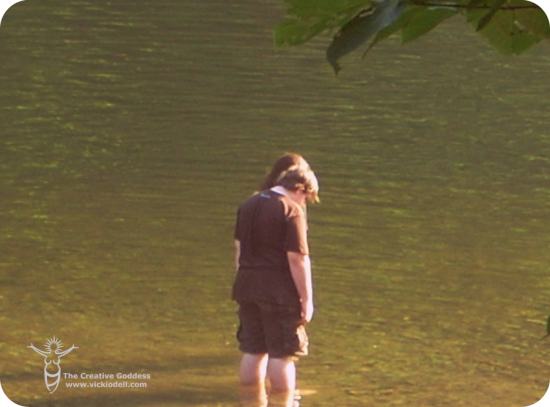 I was sitting in my surgeon's office one day last week for my post-op visit and he was talking on and on about upcoming treatments, options, scenarios and the like and I started crying.
All I could think was, "I don't want this".
"I don't want to do this, I CAN'T do this, and I want no part of it."
I came home and went to bed and had a good cry. I had a nap and watched a show I've been binge watching on Netflix.
I was pretty miserable until he called back later in the afternoon to tell me that none of my lymph nodes had cancer and that he was able to get good margins this time. No more surgery. Hooray!
That made me forget what is still waiting for me enough so that I could celebrate the good news.
That night I had a very vivid dream.
I dreamed of a very brightly colored fish swimming in a stream.
The only thing is that the fish was fighting with all her might to swim UP stream.
She would leap and dodge and push with all her might.
She was working hard and not getting anywhere. She was exhausted and at the end of her strength reserves.
So she did the only thing she could do. She quit.
So she turned around. And went with the flow.
Swimming became so much easier, she could rest a bit while she floated along with the current. She didn't necessarily want to go in the direction the stream was taking her but she didn't mind because swimming was so much easier.
Her life got easier.
I woke up and knew that the fish was me.
I've been fighting this breast cancer thing. I don't want it, I don't want the surgeries, the treatmentsm or the tests. I want no part of it. I've made this process very hard on myself. I'm wearing myself (and maybe even some my support system) out.
But here's the deal.
Cancer is out of my control and for the most part the treatments, tests and surgeries are out of my control too. My surgeon has done what he thinks is best for me. For my health and to ensure that I SURVIVE a while longer.
I'm not going to quit fighting cancer, I'll NEVER quit fighting it. But I'm going to try my best to quit fighting all of the stuff I really have no control over.
My blog has been quiet because I don't have a ton of energy for projects. Not much I can do about that. I'll work on projects and ideas as soon as I am able.
My house isn't very clean. But hey, it's not a disaster either.
I don't like needles. But at this point in time I can't avoid them. I keep telling myself that the time for needles will be over and I won't have to deal with them for a while. Everything comes in cycles. This is the needle cycle. It won't last forever.
I still don't like having cancer. I still don't like the appointments, the lack of energy, and the uncertainty but I do have control over how I deal with it.
I'll deal with it in the most positive, PEACEFUL and LOVING way that I can. Because going with the flow is just so much easier sometimes.
Can you think of a time in your life when things got really tough and you made it harder on yourself by fighting every step of the way? Did you decided going with the flow made things easier? How did you deal with that?