As you know, I'm off in Chicago at the summer CHA (craft and hobby association) trade show and my friend Laura Bray from  Laura Bray Designs has generously offered to guest post for me today.
I'm madly in love with this bag to hold canning jar rings!
I have NEVER known how to store all of those canning jar rings. If I put them in a drawer they quickly take it over as I use up my canned goods. If I keep them in my large canning pot I have to climb to a very high shelf to put them away each time. I mean, it's super easy to take them all out and use them while I'm canning but as I use up my canned goods one at  time, I'm never quite sure what to do with the rings until I need them again.
This is the perfect solution and it helps that it's stinkin' ADORABLE as well.
Ok, I'll stop talking your eyeballs off and let Laura tell you how she did it….
If you regularly preserve your summer harvest, you know all too well that the canning jar rings can be difficult to store.  While you can't reuse the sealing lids, you can save the rings for reuse.  I created this cute little bag to store them in.  Of course, the bag would also make a very cute gift bag too!
Supplies:
16" x 8" rectangle of fabric.  I used yellow gingham.
20" ribbon
Small scrap of printed fabric.  Charm size works great!
1.75" x 1" rectangle of felt
Ribbon with Handmade sentiment printed on it.  If you can't find ribbon, you can embroider the sentiment or print it out on ink-jet fabric.
Basic sewing supplies
Canning Jar Applique Pattern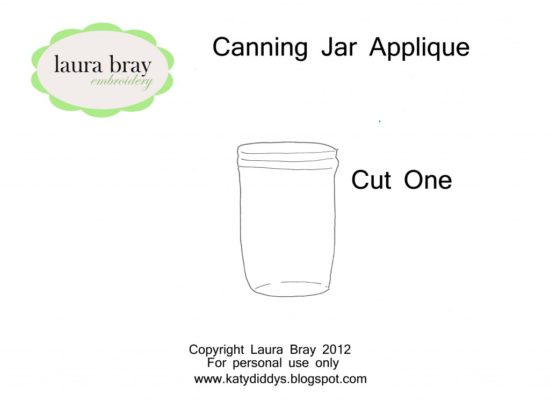 Directions:
Using the applique pattern, cut a canning jar shape from your printed fabric. Put aside.
Fold gingham fabric's short edges down approximately  one inch and press.  Stitch along bottom of pressed edge to create your casing.
Place canning applique on one end of the gingham fabric, with the top of the jar a few inches down from sewn casing.  Pin in place and then use free-motion embroidery to outline the applique and create the lines of the canning jar lid and the bottom of the jar.
Stitch the felt piece and printed ribbon onto the jar to represent the label.
Fold the gingham fabric in half, right sides together.  Pin in place and stitch around three sides.  Be careful not to stitch over the casing openings on each side!
Press and turn bag right side out.  Pin a safety pin onto end of ribbon and pull through the casing.
Laura Bray is a designer, writer and lifestyle expert.  She inspires creative women to live a life of balance & simplicity by sharing her modern twist on traditional home arts.  Whether you stitch, cook, are raising children or just want to be a better housekeeper, you are sure to find great tips and tutorials on her blog at Laura Bray Designs.