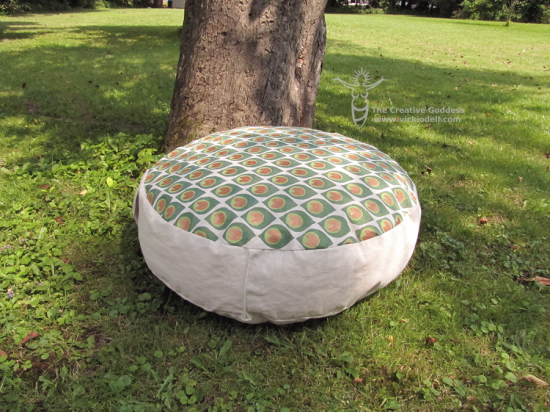 There is more than one way to meditate. I know this because I asked the folks on my Facebook Page and they know EVERYTHING! For some people sewing, running and playing with pets were ways they meditate. Other's are more into the traditional types of meditation and someone mentioned a type of meditation I'd never heard about before.
I told you, they know EVERYTHING.
This hand painted meditation pouf combines a couple of MY kinds of meditation. Crafting – painting an easy repetitive pattern – and the usual sitting and being quiet kind.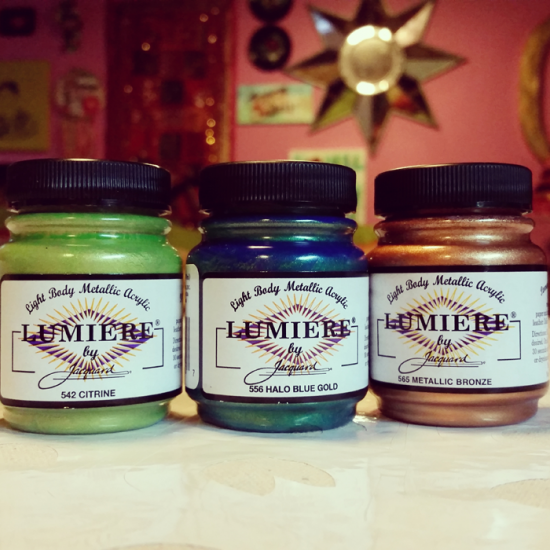 I recently received a box of goodies from Jacquard and the colors in the box determined the pattern I created. I made the stencil in my Silhouette Cameo and went to town of a piece of canvas.
It took me a couple of days to paint the fabric but it was totally worth it to me. It was relaxing and calming to paint those bits by hand.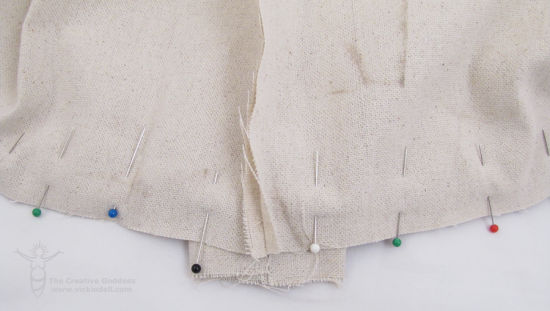 Here is how you can make your own hand painted meditation pouf.
Supplies:
Painter's Dropcloth
Paints
Stencil
Sewing machine and thread
Sharp Scissors
Straight Pins
100 Liters of Bean  Bag Filler
Directions:
Cut two 25 inch circles out of the painter's drop cloth – I used a washtub as my template
Paint or decorate the canvas as desired and let dry
Cut one piece of canvas 7 inches by 78 inches.
Cut another piece of canvas 9 inches by 7 inches  for a carrying handle – optional
100 Liters Bean Bag Filler
To create the handle turn the canvas so that it is 7 inches tall and 9 inches wide. Turn in the two longest edges about 1/2 inch and stitch/hem.
Turn the long edges in to the middle (folding the piece into thirds) so that the hemmed edges touch. Stitch in place.
Stitch the short ends of the 78 inch piece of canvas together leaving a 5-6 inch opening in the center. The opening will be where you fill the pouf.
Pin the 78 inch long piece of canvas to one of the circles right sides together. Pin one end of the handle in between the layers.
Stitch around the circumference stitching all layers together.
Stitch the second round piece to the 78 inch side along with the other end of the handle.
Turn right side out.
Fill with bean bag filler.
Whip stitch the opening closed.
TIPS:
You can cut the pieces out BEFORE painting to cut down on time spent painting fabric you won't need for this project.
I stitched around ALL seams twice because this type of canvas frays very easily.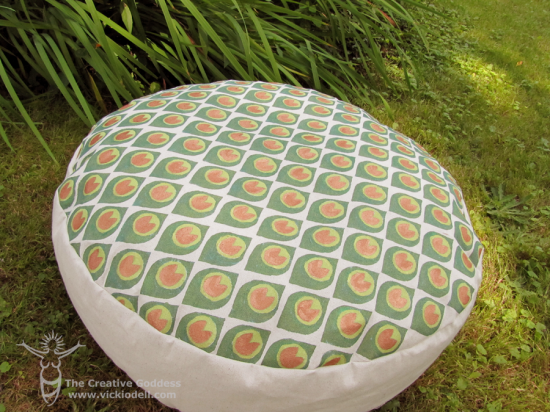 I love the way it turned out. There is just enough shimmer in those paints to make it really interesting. You'd never guess that fabric started out as a painter's drop cloth.
Now here's the thing. I was going for a stylized peacock feather in my design but then someone one Facebook said it looked like an avocado cut in half. Um, yeah. I really like THAT idea.
Can I say I meant for it to be half an avocado all along?
Do you meditate? HOW do you meditate?
PS. You could totally use this same idea to create an ottoman or a larger pouf just increase the height of the side panels and the number of bags of filler.
This is an affiliate link and purchases made by clicking on this link may result in my being compensated by amazon.com.