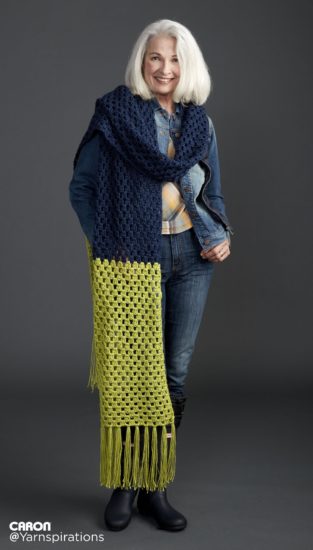 When I first saw the new trend of "Super Scarves" I knew I'd found something that was right up my alley. I mean, what's better than a warm neck scarf when it's -4° outside? A BIGGER, WARMER neck scarf that's what!
And then I saw this Granny Takes a Dip Super Scarf that was featured on The Crochet Crowd Facebook page. Granny stitches I can do!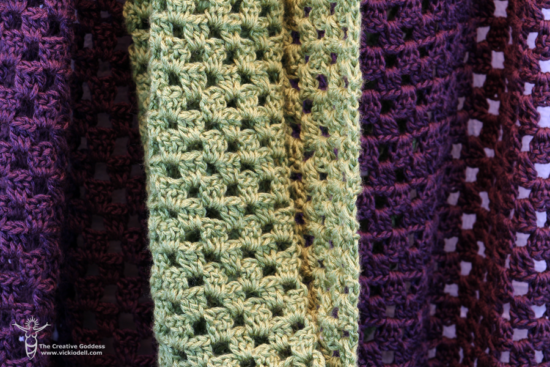 You see, I have a serious  life-long case of ADD (yes, I have been diagnosed – multiple times) and counting a whole bunch of stitches is nearly impossible for me. My mind starts to wander off on it's own leaving my fingers unattended. I'll stitch along thinking my thinks and then come back to reality and I've made a jumble of the whole thing. And because I don't have a ton of crochet experience I have a hard time finding out where I went wrong.
Projects like granny squares and granny stitches are a life saver for people like me. It's easy to see the stitches and I can count to three without any trouble of getting lost.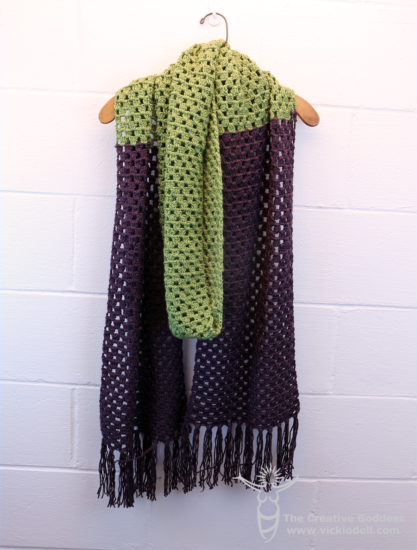 I did change my pattern up though. In the original pattern the edges are different. Three stitches on one and two on the next row – or something like that. To make it easier on myself I changed it so that the ends are all even and each row has the same stitches in it. Frankly, I like the straighter edges on mine better.
I used (affiliate link) Patons Silk Bamboo Yarn in orchid and moss for this Granny Takes a Dip Super Scarf and it's super soft. Even someone with delicate skin could wear this around her neck and face and not be irritated by it.
You can find the pattern here.
I decided that I'm giving this super scarf to a dear friend as a birthday gift and I'm almost finished with a second one. I will share it when it's finished.
Do you crochet? Would you wear a SUPER SCARF?