Let me tell you, if you've never met me in person – I am a well endowed woman. I happened to swim in that Irish-German DNA pool that endows the majority of the women in my family with a healthy sized bosom.
When I was young it was a pretty good thing. I got lots of help carrying groceries to the car – even when it was a service the store didn't necessarily provide, I was bought a drink in a bar now and again, and I even got out of a speeding ticket once. (Seriously) 
BUT I can also tell you that after 7 pregnancies, 3 nursing babies, 48 years and a whole lot of gravity that said bosom isn't quite as perky as it used to be. It's just a fact.
A sad but true fact.
But hey, you buy a good bra and no one is the wiser.
But once in a while that less than perky bosom can cause some real life discomfort.
You see, my Sister in law gave me a pair of pajamas for Christmas that I LOVE. They are warm and super comfy. My favorite pajamas post Christmas 2013.
The only problem is that after a few washings they shrank. Not width wise but length wise.
And a shrinking pajama top, coupled with a middle aged, well endowed woman, is a disaster waiting to happen.
You follow?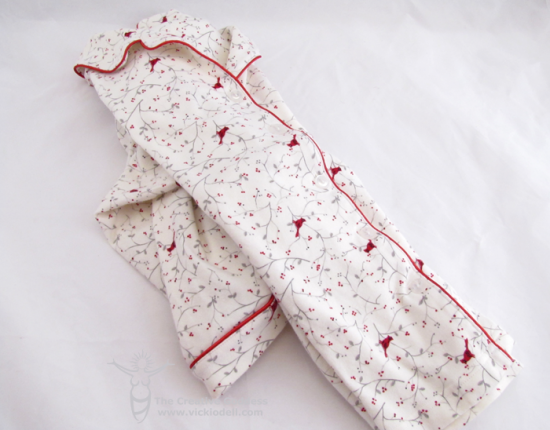 Not only did it shrink but the button placket wanted to buckle a little too. It was all just enough to make me feel very self-conscious.
I kept pulling down the top at the hem to make sure "the girls" were always covered. I would NEVER reach over my head for the chamomile tea when someone else was in the room and I sure wasn't going to stretch and yawn unless I was sure I was quite alone – or under an afghan.
I don't think I really ever came close to actually showing skin but it made me feel very uncomfortable. You know, like at any moment I would embarrass myself beyond recovery. And I don't embarrass all that easily!
I decided that my new pajamas needed a make over so they could remain my FAVORITE pajamas.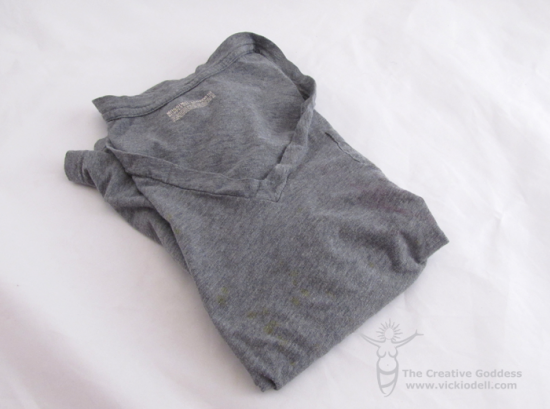 I found an old T-shirt that has some fabric dye, paint and maybe a drop or two of a Solo Soy Java Chip Frappuccino staining the "shelf" area.
My fellow well endowed women know all about "the shelf".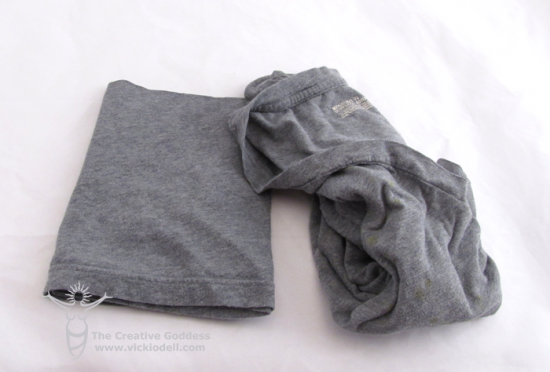 I cut a healthy chunk off the bottom of the t-shirt.
And by healthy I mean about 8 inches.
I mean to make these pajamas flash proof for a long time to come.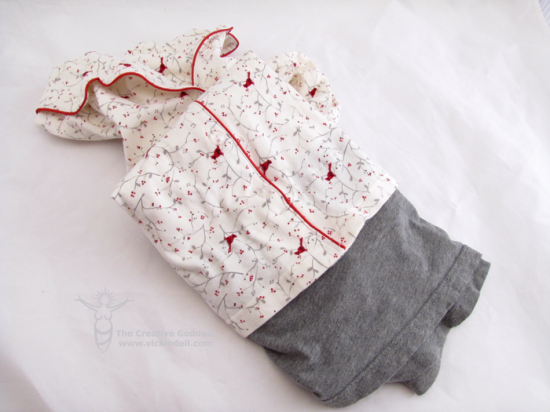 I sewed the button placket closed so there won't be any gaps between the buttons.
And stitched the t-shirt to the bottom of the pajama top adding another 6 inches (allowing for overlap) of length on the pajama top.
Just pin in place and stitch. Simple.
I would have preferred a nicer fabric but this was so easy I practically did it in my sleep. Heck, the bottom hem was already done for me!
Plus it was basically free as I already had the t-shirt on hand.
And now I don't have to worry about some Janet Jackson-esque wardrobe malfunction further scaring my one remaining child any more than he's already been scarred by simply living with me.
Because let's face it, I'm a bit bawdy and not afraid to talk about anything. So the boy is plenty scarred.
Do you have a similar problem with clothing not fitting well as a middle aged woman? What doesn't fit right for you?