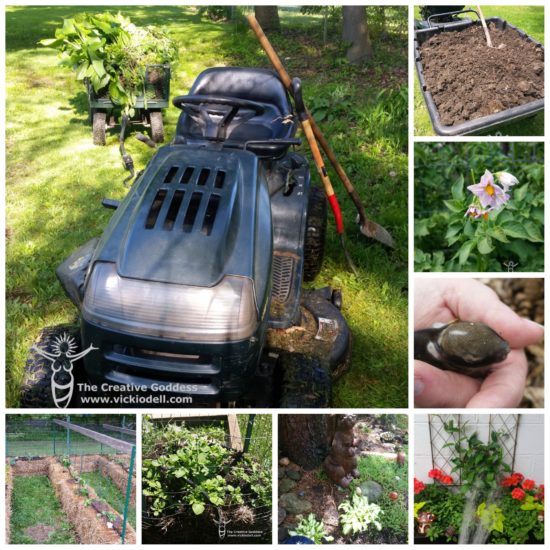 Hello beautiful people. I'm back from an unplanned break from blogging. Mama was getting a bit cranky about the blog-0-sphere and needed to step away a bit. You know how that is, you work and work and work on something and then one day you realize that if you don't take a little break you are going to walk away for good. Burned out on perfectionism, competition and the over all attitude about/from bloggers was getting to me.
Besides, the gardening life was calling me and gardens just won't be ignored.
So I took a wee break.
And it made me realize something.
I can't do this blogging thing to make a living. You see, there are tons and tons of bloggers out there working night and day to make a decent income from their blogs. They put in unimaginable amounts of time and hard work on their blogs. And when things click – some of them can even support their families with their blogging income. I know of one or two who were even able to let their husbands quit jobs they hated and they alone support the family with their blogs. But let me tell you, that is an ultra rare exception. And while I felt the need to keep up before – I've let that all go now.
Honestly, I'm just not interested in working that hard or that many hours. I write and create because I HAVE to. For my mind and soul.
Which is a good thing because I can't even begin to tell you how many pitches I get from companies who want me to create, photograph, write and promote their products for free. Meanwhile, I don't get to work on things I love – like my home and gardens. And it makes me cranky.
Just not worth it. Not to me. And that realization took a while to come to.
So what do I want to do when I grow up?
I just want to be a bohemian farmer gal who makes art and writes a book or two.
Yup, I'm doing some research for a book that may or may not get published but it's there in my heart and it needs to come out. I've added several gardens and flower beds to my little acre farm and I'm in heaven out there digging in the dirt and sweating my butt off. I've even lost about 15 pounds this summer. BONUS!
I have finally talked my husband into letting me have a few quail but we are going to wait until spring to get them. And I'd really like to talk him into a couple of little Nubian goats for milk but I think that will be a harder sell. I got a book and I'm dying to teach myself how to make cheese.
I took a part-time job teaching craft classes for the city of Akron (OH) teaching craft classes for Parks and Rec and it's been so much fun. I'll write more about that another time.
And just recently I have decided that when it's too hot to be outside I need to get some painting done here inside the house. It's been several years since any of the rooms were painted and everything needs spruced up. I'll be starting with the kitchen – saying goodbye to red walls – this week.
So while I'm still doing lots of things and staying plenty busy I feel like things have finally slowed down a bit (at least in my head) and I'm truly enjoying it.
I'm out there in the gardens watching the summer slowly slip away. I'm noticing the change of the season so much more than ever before and even though true fall is a ways off my connection with the earth has me thinking of harvests with canned tomatoes and drying garlic and potatoes to store for winter. It's funny, I can feel autumn coming long before the leaves begin to change color.
That connection is what I think I love most about this gardening life. Feeling the wheel of the year roll onward. It's rather magical.
Your bohemian, farmer gal, art making, book writing goddess.