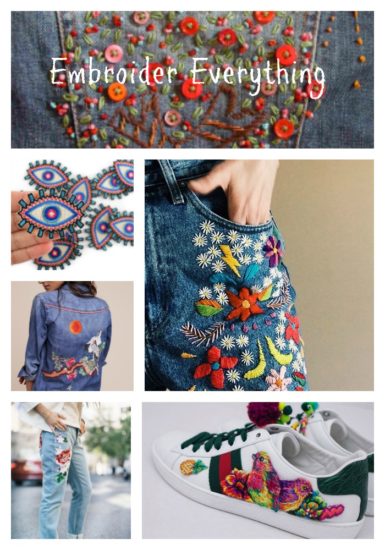 You know me, I've always got my ear to the ground looking for the next fun trend. Mostly just because I like to see where the industries I work in might be headed when I work on the projects for advertising, websites and whatnot. But also, I've been doing quite a bit of embroidery. I find it super relaxing in the evening when I'm trying to unwind. In fact, I've recently finished a piece I'll try to share next week. Lately, I've been seeing tons of embroidery in wearable items. Shoes, jeans, jackets and tops. You can embroider everything!
Here are some fantastic finds from about the web that I wanted to share today. 1 because it looks cool and 2 because it's a super hot trend. Oh, and if you don't want to do the embroidery yourself that evil eye embroidered patch is an iron on. You can just make it LOOK like you did the work.
This post contains some affiliate links for your convenience. Click here to read my full disclosure policy.
Embroidered Isle Buttondown from Anthropologie
Dionne Embroidered Boyfit Jeans – Bleach Stone Multi
Embroidery Workshop – for inspiration
Birds At Sunset Buttondown – Anthropologie
Textural Embroidery – inspiration
Blueoxy Embroidered Dress 
Blue Off The Shoulder Stripe Embroidery Dress
Embroider Everything! The Most Fashionable Update for Fall Is Here
Evil Eye Embroidered Patch – Etsy