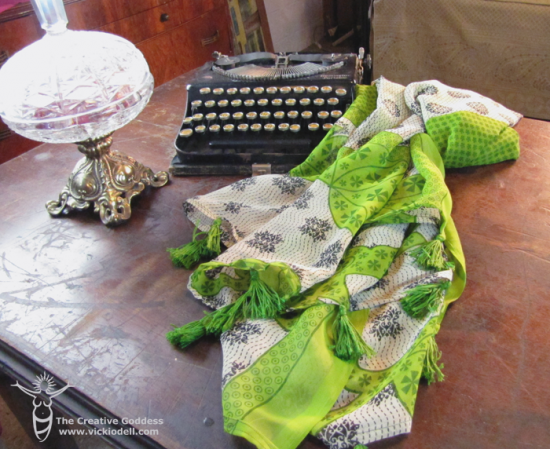 I'm kind of a nut for fabric. I like cloth napkins, tablecloths and throws.
I love scarves and wraps of all kinds.
And not just one piece of something here and there.
I love my fabrics layered, tossed, heaped and piled.
I can't help but love the warmth, texture and color that bits of fabric add to everything.
Plus fabric can be had at the thrift store for next to nothing. It washes, can be dyed, or it can be cut or torn and made into something else.
The creative possibilities with a piece of fabric are kind of crazy. If you think about it. And I have.
Take this piece of green, cream and black fabric Warren brought home from a studio garage sale that the studio he used to work for had.
I think it was used in a "Room by Room" show or something. I have a similar piece from the same purchase on the dresser in my Studio Tour post.
I loved it and hung on to it for a long time even though I wasn't sure what to do with it.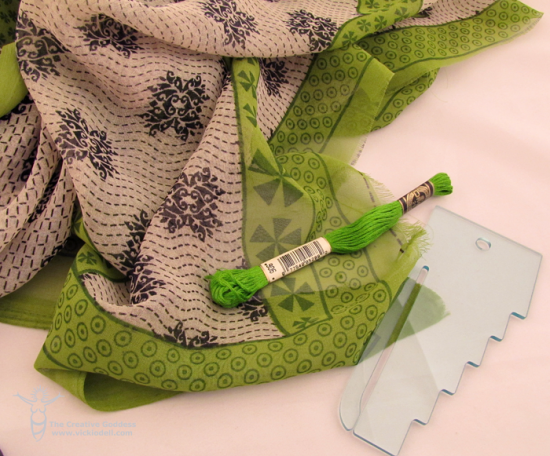 Then my pal Pattie sent me her tassel making tools.
You can see the Pom Pom tool she sent here: Bohemian Pom Pom Bracelet with the PattieWack PomPom Tool.
And I decided that this piece of fabric needed to be a scarf with tassels.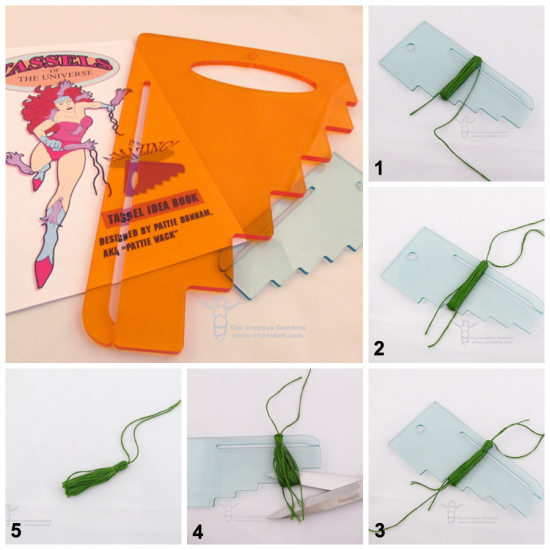 To use the tassel making tool.
Wrap yarn, embroidery floss or other fabric/thread around the tool.
Tie all of the fibers together at the top.
Bind fibers around the whole thing near the top to hold it together.
Slide the fibers to the right to have space for cutting and cut across the center bottom of the threads releasing the fibers or threads to hang down.
Make sure everything is secure so your tassel doesn't fall apart.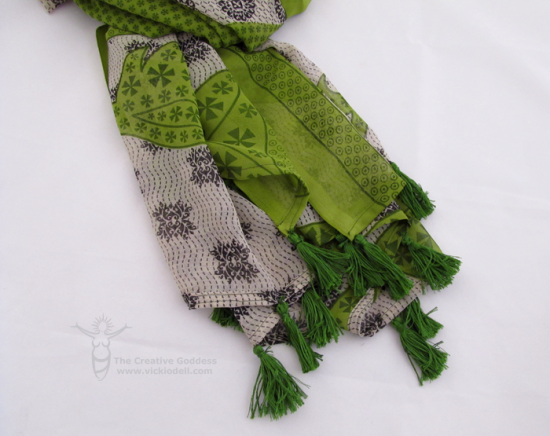 To create the scarf I hemmed both ends and left the selvage edges alone.
Then I made 18 small tassels with DMC 906 and stitched them to the ends of the fabric with coordinating thread.
(Did you check out my Embroidery Floss Story?)
I love this scarf!!
It's a HUGE scarf to wear around my neck but it will also make a great as a wrap out by the fire pit this summer.
It could also be used a a sarong over a bathing suit.
I can put it on a small table as a table cloth or just throw it on the end of my daybed to wrap around my shoulders on chilly days.
So many options.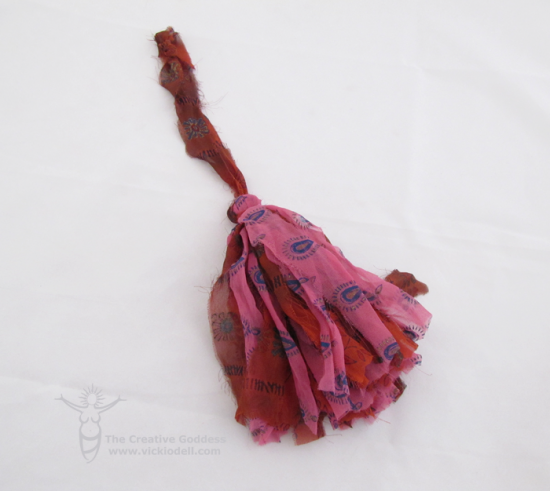 I also created this fun EXTRA LARGE tassel from cut up vintage sari's. LOVE it.
I also used those sari's on another project but you'll have to wait until tomorrow for that.
I really like this tassel tool and you can get the tassel tool and the pom pom maker in Pattie's  Pattiwack Shop.
Now I'm looking for other things I can make tassels with. Leather, cut up T-shirts, ribbon and other stuff. Nothing is safe!
Disclosure: The Pattiewack Tassel Making Tool was provided for my use but all opinions are 100% honest and my own.