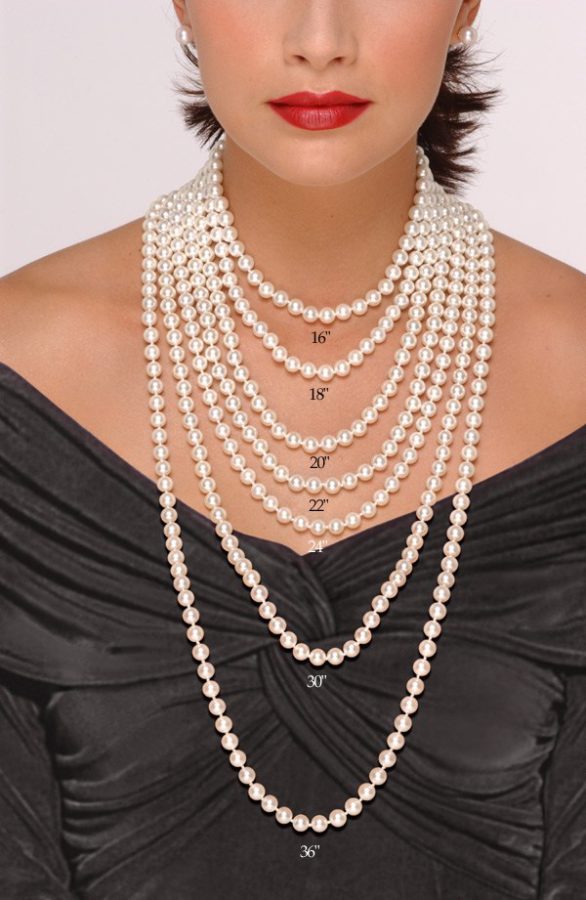 Knowing which Necklace Length is Right For You can be a bit tricky. Part of it depends on the neckline of the top you are wearing and part of it depends on your body shape. Take me for instance, I'm a heavy gal and I can't wear a typical choker. I feel like it's too tight and it makes me uncomfortable. I'm also busty so I have to be aware of where the necklace falls or it spends half the day in my cleavage.
Knowing which necklace length is right for you is also a good thing to know when you are making your jewelry. Knowing what you might wear the piece with and which necklace length looks best on you will give you a good start when you begin planning to make a piece.
Here is a quick guide of necklace lengths and who might be able to wear them. But as always, I tend to say, "the heck with the rules, wear what you LOVE."
Choker
Length – approximately 14-16 inches long (depending on neck circumference)  – The choker wraps around the neck and is designed to fit the circumference of the neck rather snugly. It does not fall down onto the collar bones and may include a center pendant, drop, or stone. Prior to the common use of metal clasps, jeweled chokers were often fastened with ribbon. Chokers are a great choice to accompany a high-necked top or dress.
Chokers generally look best on women with long, thin necks.
Collar
Length – approximately 16 inches long  – The collar falls just at the base of the neck. In contrast to the choker above, a collar lies flat and rests against the upper chest just below the base of the neck and above the clavicle, much like the collar of a shirt. While you can create it out of any material, it's common for a collar to be made of large beads, natural stones and metal. Big and bold is the way to go with a collar necklace.
This necklace length is a good choice for when you want to accessorize a high neckline but prefer something with a little more breathing room than a choker.
Matinee
Length – 20-24 inches.The Matinee can be either a shorter necklace (about 20 inches) that falls just below the collarbone – near the top to mid bustline – but above many modern necklines. Or a matinee may be slightly longer and rest just below the center of the bust, below most modern necklines.
The shorter matinee necklace is usually worn with clothing that has a plunging neckline. This style of necklace is often beaded all the way around. Women with larger necks and busts may choose this length for a pendant style necklace if a shorter necklace or chain feels too tight or restricting.
A matinee necklace is perfect for both business and casual wear. These necklaces are often beaded and may have several different layers and strands working together. Matinee necklaces will always lay on top of clothing, so be sure to think about how the colors and textures will work together.
Princess
Length – approximately 18 inches long – This necklace falls just below the neck at the collarbone. 18 inches is the perfect length for a dainty charm. A princess is often made of a simple gold or silver chain with a stone, bead, or monogram or metal pendant.
A princess necklace is often more of an understated accessory than a bold statement piece. It's great for everyday wear and works with just about any neckline.
Opera 
Length – approximately 30 inches.
An opera length necklace tends to be slightly more formal than its shorter counterparts. Hanging just below the bust, it elongates the torso and works well with high necklines and evening wear. Often made of pearls, gemstones and crystal beads, necklaces of this length are intended to make a statement. Opera necklaces can be worn by any body type, although they can overwhelm petite figures if they are too large and chunky.
Lariat – Length – 30 inches and longer. A lariat is a very, very long necklace without a clasp. A lariat is often worn draped multiple times around the neck; the ends can be crossed over, looped, or knotted in various ways.
Even if there is beading along the chain, it tends to be small and subtle, drawing attention to a focal point at the bottom of the necklace. Lariats work wonderfully for elegant business and evening wear. When choosing a lariat, avoid plunging necklines that don't pair well with the necklace's length.
There, I hope that helps you decide which necklace to wear with that little black dress.